Night of the Grizzly
~ A True Story Of Love And Death In The Wilderness ~
Forword
Some readers may find the following information and examination disturbing. For this, I apologize. Read at your own discretion. Others will find it interesting, informative and hopefully educational. At the very least we can learn from someone else's mistakes.
Night Of The Grizzly chronicles the last remaining moments of Tim Treadwell's and Amie Huguenard's lives, the discovery and investigation revolving around their deaths and what led up to their tragic end. An attempt will also be made to theorize what actually took place in camp that stormy night back in 2003 by piecing together bits and pieces of a six-minute audio recording left behind.
As I researched this incident, I quickly realized that Tim and I had quite a bit in common and I totally understood his passion. The grizzly bear symbolizes wilderness and a simpler time. There are no highways or skyscrapers in the world of the bear—- but there are boundaries.
However, had we met, Tim and I would have no doubt had some heated discussions about how I thought he was doing more harm than good with his behavior in Alaska. Habituating bears to the presence of man only increases the chance that harm will someday come to the bear, or another "man."
A special thanks to Rangers Joel Ellis and Rick McIntyre for their interest, their valuable insights, questions and encouragement. Otherwise this would have sat in the archives gathering "electronic" dust.
This is a work in progress. Any mistakes are mine alone, and hopefully I will catch them sooner or later. If someone had told me back in October 2003 that I would be investigating and writing about this incident for several years, I would have laughed. I should have known better.
I hope Jewel Palovak as well as other family and friends of Tim and Amie can somehow find peace in their lives.
Warning: What you are about to read is graphic in detail
Originally published online October 14, 2003
News From Alaska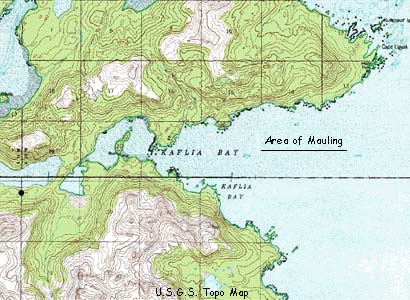 The remains of Tim Treadwell, 46, a self proclaimed eco-warrior and photographer, along with girlfriend Amie Huguenard, 37, a physicians assistant, both of Malibu California were found Monday October 6, 2003 in Katmai usgs topo map of kaflia bay, alaska, area of maulingNational Park and Preserve on the Alaska Peninsula after the air taxi pilot Willy Fulton, who had flown in to pick the couple up near Kaflia Bay, contacted the National Park Service and Alaska State Troopers to report that a brown bear was sitting on top of what appeared to be human remains near the camp.
For 13 summers Timothy Treadwell fled California for the wilds of Alaska, where he set his camp among some of the largest and most numerous brown bears left in North America. Treadwell gained national celebrity status after his appearance February 20, 2001 on CBS's David Letterman Show, promoting his 1997 book "Among Grizzlies: Living With Wild Bears in Alaska", along with his close-up photographs and video footage, often showing him within arms reach of large brown bears or creeping on all fours towards a sow and her three cubs, talking in a soft, child like, sing song voice.
Background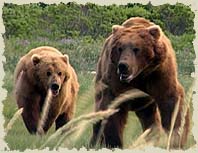 © Tim Treadwell 2003
Katmai National Park has about 3000 of the total 35,000 Alaskan grizzly bears (ursus arctos horribilis). The coastal version referred to in Alaska as brown bears (ursus arctos), most of whom would weigh in excess of 1000 pounds. (Van Daele 2004)
The term "Brown Bear" is the more correct and scientific use for the specie. "Grizzly" is just common usage in the lower 48, having first been used during the Lewis and Clark expedition when they referred to "a brown bear with grizzled appearance". (DeVoto) All grizzly bears are actually brown bears, having originated in Eastern Siberia— the Russian brown bear. The black bear is the only native bear in North America (ursus americanus).
For 13 years, Timothy Treadwell camped in several Alaskan parks but Katmai National Park was a favorite, crawling and walking up close to bears and filming them. Often attempting to touch both cubs and adults.
In the 85 year history of the park no visitor had been killed by a grizzly.
Firearms are prohibited within Katmai National Park. Bear spray is allowed, however Tim had quit carrying bear spray for protection several summers prior to his death.
Treadwell often established his camp on or near established bear trails, and intersecting bear trails. During this last season, Tim had also hid and camouflaged his camp at "the grizzly maze" within the thick alder brush in an effort to hide from the Park Service, due to a new rule imposed by the park service which required all backcountry campers to move their camp at least 1 mile every 5 days. (Van Daele 2004, National Park Service 2003)
In late June 2003, Tim and Amie arrive in Katmai and set camp at Hallo Bay, in what Tim referred to as the "Sanctuary". Amie returns to California after a couple of weeks, and then returns to Katmai just as Tim was moving his camp to "The Grizzly Maze" on Kaflia Lake. Willy Fulton drops the pair off on Sept. 29, 2003. (Fulton 2003)
Tim sent a letter back with Willy Fulton on Amie's return to Bill Sims, owner of the Newhalen Lodge near Katmai and wrote that "a few bears at his camp were more aggressive than usual". (AP Wire 2003)
Tim and Amie extend their stay 1 week in an effort to locate a favorite female brown bear not seen earlier. Tim also writes in his diary that Amie believes he is "hell bent on destruction" and that this will be her last season in Alaska with him, leaving him for good, and that she was looking forward to starting a new job and desperate to return to California. (Treadwell 2003)
On Sunday October 5, 2003, sometime between 11:00 am and 12:00 pm, Tim and Amie make a satellite phone call to Jewel Palovak, program director of Grizzly People, and there was apparently no problem at that time. Both seem excited and in happy spirits having located the missing sow. (Epping 2003, pg 13)
Earlier on that same day Tim phoned his pilot friend Willy Fulton to fly his float plane in to pick them up on the beach the following afternoon. (AP Wire 2003, Fulton 2004)
The Early Years
Tim Treadwell was born in New York in 1957 as Timothy Dexter, the third of five children. According to Tim, as a teenager his home life disintegrated often getting stinking drunk and once smashed up the families car. After barely graduating high school, Tim left for Southern California and ended up in Long Beach.
Soon after he arrived, he began working in restaurants while attending college on a swimming scholarship. After the college party life took over his life and losing his scholarship, Tim began auditioning for parts in various sitcoms, changing his name to Treadwell from his mother's side of the family.
According to his book "Among Grizzlies", during this period he continued to indulge in alcohol and drugs and finally overdosed on heroin and cocaine in the late 1980s, and was rescued by a Vietnam vet named Terry, whom he had become close to. After he was discharged from the hospital, Tim decided to travel to Alaska and watch bears at the urging of Terry.
His early attempts at camping were almost comical. In his journal he wrote that he was often cold, hungry and tormented by insects, and that the first time he saw a grizzly it ran away. Tim later said he was sad that any bear would find him a threat. (Treadwell 1997)
Mark Emery, a wildlife filmmaker and outdoor guide first saw Treadwell from the air in the early 1990s. Emery was on a charter flight over Hallo Bay in Katmai National Park with a film crew from National Geographic, when they spotted a guy on the ground desperately waving his arms. "Tim said he was learning to be around bears, but that he wanted to get out of there right away because the bears had been in his camp. I took a picture of him holding a water jug that was crushed by a bear." (Emery 2003)
Emery goes on to say that Tim "was camping near the coast and was nearly out of water, although a freshwater stream was nearby". At Treadwell's request the film crew contacted a charter service to pick him up. (Emery 2003)
Back in California during the winter months, Tim worked as a bartender and stayed sober. With a previous girlfriend, Jewel Palovak, he wrote his 1997 book "Among Grizzlies: Living With Wild Bears in Alaska." Together they began Grizzly People, a non-profit group devoted to educating people, especially children, about bears and as a way to fund his travels to Alaska.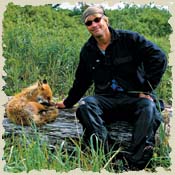 © Tim Treadwell 2000
Almost from the start, National Park Service officials worried about Tim's behavior. According to park service records, in 1998 Treadwell was issued a citation by park rangers for storing an ice chest filled with food in his tent. On another occasion he was ordered by park rangers to remove a prohibited portable generator.
A total of 6 park violations or complaints from 1994 to 2003, including guiding tourists without a license, camping in the same area longer than the 5 day limit, improper food storage, wildlife harassment, use of a portable generator, and misc. altercations with visitors and licensed guides.
Treadwell also frustrated park rangers because he refused to carry bear spray. Deb Liggett, superintendent of Katmai National Park became sufficiently concerned about Treadwell that she met him for coffee in Anchorage several years prior to his death. "I told him that if we had any more violations from him we would petition the U.S. magistrate to ban him from the park,". (Liggett 2003)
Liggett applauded the fact that Treadwell was winning fans for the bears, and was being more careful to warn people not to attempt what he did, but she and other park officials were afraid that "one swipe of a paw would undo all that and result in a frenzy of stories about fearsome, people-eating grizzlies". (Liggett 2003)
Amie Huguenard apparently did not share the same concern. A physician's assistant in Aurora, Colo., Amie first fell in love with Treadwell's book and eventually its author. Huguenard quit her job on Jan. 31, 2003 and moved to Malibu where she was to start a new job after she and Tim returned for the winter.
The couple had spent parts of the three previous summers together in Alaska. On September 29, 2003, Tim and Amie once again are transported to Kaflia Lake by Willy Fulton, the couple wanted one more chance to be with the bears before winter set in. Eight days later they are discovered dead.
Discovery and Investigation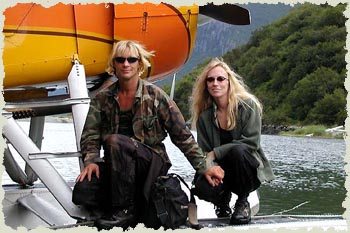 Tim and Amie–Last Expedition © Willy Fulton 2003
As scheduled, at 2:00 PM on Monday October 6, 2003, air taxi pilot Willy Fulton from Andrew Airways arrives at Kaflia Lake to transport Tim and Amie out of the area for the year and is approached by a large brown bear.
Willy states "It was rainy and foggy out that morning." After landing, Willy believes that he sees Tim shaking out a tarp and yells for the couple but receives no response. He decides to hike up the path from the beach and through the thick alder brush towards the camp after he notices a little bit of movement. When he is about 3/4 way up the hill he senses that "something just didn't feel right. Something seemed strange, hollering with no answer".
Willy then states that he turned around and headed back down the path through the thick alders "at a pretty good clip" and just as he gets to the plane, he turns and spots "a pretty nasty looking bear" that he had seen on earlier flights, sneaking slowly down the trail with it's head down. "Just the meanest looking thing".
Willy then takes off and flies over the campsite 15 to 20 times in an attempt to chase the bear away, and sees what appears to be the same bear feeding from a human rib cage, but each time he flies over the camp the bear begins to feed even faster. (Fulton 2003, 2004)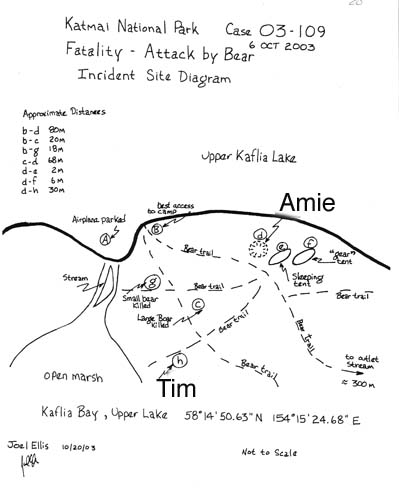 Incident Diagram courtesy National Park Service (Body locations are noted by author)
Katmai park ranger Joel Ellis received the call from Andrew Airways at 1:35 PM. Ranger Ellis then requests that Willy Fulton be contacted by radio and asked that he remain "nearby, if he could do so safely". Willy then lands again about 1 mile west of the camp on the western shore of the lake.
At 3:20 pm, ranger Ellis joins up with two other park rangers at the airport and depart in a park service Cessna 206, with ranger pilot A. Gilliland at the controls and ranger D. Dalrymple in the back seat. Ranger Ellis also has park dispatch report the incident to King Salmon State Troopers as well as Alaska Fish and Game, requesting that troopers meet the park rescue team at Kaflia Lake near Tim and Amie's camp.
At 4:26 pm the team arrive at the lake, and ranger Ellis conducts a quick interview with Willy Fulton. Willy states that he "could not be 100% sure, but was confident that something was wrong". (Ellis 2003, pg 2)
Willy advises the rangers that there is only room for one plane to park near the camp and climbs into the park service Cessna for the quick taxi to the south shore. As they approach the area, ranger pilot Gilliland spots a large adult bear near the top of the hill where the campsite is supposedly located.
After exiting the plane, the four begin slowly hiking up the path from the lake, yelling as they walk to help locate any surviving victims, and to alert any nearby bears of their presence. Ranger Ellis states that "the visibility was poor with a heavy growth of bushes and tall grass, the camp was located on top of a ridge and out of our sight. We had radio contact with Alaska State Troopers Hill and Jones", who were forced to park their plane 300 meters away and had to hike through the thick brush, "so we elected to wait at the base of the hill until Troopers Hill and Jones could catch up".
Ranger Ellis was standing with ranger Gilliland and Willy Fulton to his left. Ranger Dalrymple was slightly ahead of Gilliland when Gilliland suddenly yells, Bear! while pointing to the right. Ranger Ellis states that he turned and "saw an adult bear moving toward the group about 20 feet away". All four begin yelling in hopes that the bear would see them and move away. Ranger Ellis then states that he "perceived that the bear was well aware of their presence and was stalking them". Ranger Ellis, armed with a 40 cal. handgun begins to fire at about the same time rangers Gilliland and Dalrymple, who were each armed with 12 gauge shotguns loaded with slugs also begin to shoot at the bear.
Ranger Ellis fires 11 times while rangers Gilliland and Dalrymple each fire 5 times, dropping the bear 12 feet away. "That was cutting it thin" stated Ellis. After about 10 seconds the bear dies and Willy Fulton then reportedly says "I want to look that bear in the eyes" and states that he is sure that this was the bear that chased him back to his plane earlier. (Ellis 2003, pg 3)
Human remains were then found buried by a bear near the campsite, which was in a brushy area with poor visibility.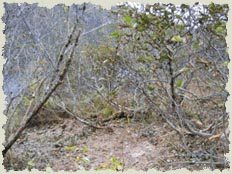 Site of Tim and Amie's Camp © N.P.S.
Two tents were discovered, one for gear and the main tent used for sleeping. Both were collapsed and torn, however there was no evidence that the bear had pulled the victims from the main tent. In front of this main tent was a large mound of mud, grass and sticks, five feet long, 4 foot wide, and 3 feet high. After moving a clump of dirt, ranger Ellis later recalled seeing "fingers and an arm protruding from the pile". (Ellis 2003, pg 4. Gilliland 2003, pg 10)
Food was found in the camp secured in 4 or 5 metal bear proof canisters, as well as open snack food found untouched inside the sleeping tent. Both Tim and Amie's shoes were also found neatly still in place at the entrance to the main tent.
Rangers Ellis and Dalrymple then hike back down the path to retrieve cameras from the plane. Ranger Gilliland states that he was "standing at the top of the knoll about 10 feet from the mound" containing Amie, looking around when he spots a large bear about 15 feet away walking up the same trail they had just hiked up, and the same trail that rangers Ellis and Dalrymple had just walked down. After yelling Bear! The two troopers, who had arrived at this point, as well as Willy Fulton, begin yelling at the bear "to get out!". The bear hesitates for about 2 seconds before turning and walking back down the trail to the lake. (Gilliland 2003, pg 10)
Meanwhile, ranger's Dalrymple and Ellis, having just reached the plane and out of ear shot of the activity unfolding back at camp, spot a large adult bear moving down the trail from the camp. The two climb onto the plane's float and yell as the bear continues to move away. Because the bear did not appear to be acting aggressively, the rangers allowed it to move off. (Ellis 2003, pg 4)
Investigators combing the nearby area around the campsite discover what was left of Timothy Treadwell. "His head connected to a small piece of (spine}", and what has been described as a frozen grimace on his face. "His right arm and hand laying nearby with his wrist watch still attached". (Fulton 2004, Ellis 2003, pg 5)
Meanwhile, searchers excavating the bear's cache back in camp discover Amie Huguenard, who's arm and fingers had been exposed to the daylight when investigators first entered the camp. Appearing as though she were peacefully asleep except that her body, like Tim's, had been mostly eaten by the bear. (Ellis 2003, pg 5)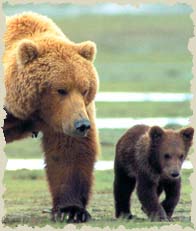 © Tim Treadwell 2000
Later, as the helicopter was being loaded, a second smaller bear approximately 3 years old seemed to be stalking the rangers and it was shot and killed as well.
Ranger Ellis states that he "saw a bear about 30 feet away". Ranger Gilliland fires a warning shot into the air, however the bear did not react. "This bear was intermittently visible as it moved through the brush and tall grass. We were yelling and the bear was looking right at us."
As the bear continued to move towards the group ranger Ellis fires a shotgun, while trooper Hill and ranger Gilliland also begin firing at the bear. "The bear dropped but continued to move. Ranger Gilliland moved in and fired a final shot" killing the bear, states Ellis. (Ellis 2003, pg 5)
Video and still camera equipment, also found at the site, were later analyzed by Alaska State Troopers where it was discovered that the last remaining 6 minutes of video tape, which was found still in the camera bag, had captured the sounds of the attack.
The first sounds from the tape are from Amie, "she sounds surprised and asks if it's still out there". Apparently either Tim had asked Amie to turn the camera on, or Amie just turned it on out of reflex. (I don't believe this latter scenario took place for one minute which I will discuss in detail below). At any rate, the attack was in progress when the camera was turned on.
The next voice is from Timothy as he screams "Get out here! I'm getting killed out here!" (Tim was wearing a remote microphone on his coverall's). The sound of a tent zipper is then heard and the tent flap opening. Amie is heard screaming over the background sounds of rain hitting the tent, the wind, and other storm sounds all mixed in with the bear and Tim fighting to "Play dead!" Seconds pass before Amie yells again to "Play dead!" (Van Daele 2004)
Not surprisingly, with Amie yelling and screaming nearby, this seems to work and the bear breaks off the attack. (more on this below) A short conversation ensues as Amie and Tim try and determine if the bear is really gone. Being trained as a physician's assistant, it is believed that Amie made her way to Tim, and from the sounds caught on tape, the bear returns and Amie is forced to back off. Tim then is clearly heard screaming that playing dead isn't working and begs her to "hit the bear!" ( Van Daele 2005, Fallico 2004)
The sound of rain hitting the tent, along with wind muffle the sounds at this point. However, Amie is clearly heard yelling to "Fight back!" She is then heard screaming "Stop! Go Away! or possibly Run Away!" as the sound of "a frying pan is used to beat the top of the bears head and the sound of Tim moaning. (Fallico 2004)
It is believed that at this point in the attack, the bear let go of Tim's head which the bear had in it's mouth, and grabbed him somewhere in the upper leg area. The sound of Amie screaming very loudly, as Tim is clearly heard over the sounds of the storm, saying "Amie get away, get away, go away". Tim knew he was going to die at this point and wanted to save Amie from the same fate. (Herzog, Fallico 2004)
Amie did not go away.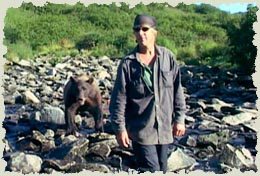 Tim With The "Grinch" © Lion's Gate Films 2004
The audio portion of this video tape lasts roughly 6 minutes. During this period, Tim's cries and pleadings can be heard for two-thirds of that time. He did not die quickly, unlike some traumatic death victims who were lucky enough to drift off into a shock induced dream state. Tim was obviously very aware and struggling desperately to survive during the last moments of his life.
Unlike what is portrayed in the movies, the bear is nearly silent. Only low growls and periodic grunts are heard which only adds to the horror of the scene. Sounds of the bear dragging Tim off, and the fading sounds of his scream's indicate that Tim is being pulled and dragged into the brush and away from camp.
As the tape comes to an end, the sounds of Amie's high-pitched screams rise to a new level, much like what has been described as "the sound of a predator call used by hunters to produce the distress cries of a small wounded animal which often attracts bears". Biologist Larry Van Daele, for the Alaska Department of Fish and Game theorizes that Amie's screams "may have prompted the bear to return and kill her." ( Van Daele 2004 )
We can only envision the horror of what Amie had witnessed and heard. Hysterical and "paralyzed with fear, standing just outside of the tent until the bear returned and attacked her". (I'm not convinced of this. More on this below too) (Readers Digest 2005)
On Friday, October 8, 2003, two days after investigators first arrived and killed the two bears, a necropsy of the larger bear was conducted at the scene by biologist Larry Van Daele, where it was learned the stomach and digestive tract contained human remains and torn pieces of clothing. Four garbage bags containing human remains were removed and flown out by helicopter. (Egli 2004) The smaller younger bear had been eaten by other bears before the multi-agency team could return and only the head remained, so no determination could be made as to whether this young bear played any part in the deaths or the consumption of the victims.
Questions and Theories
What happened? What caused the first fatal bear attack in Katmai National Park history? Rare in itself. Rarer yet, a bear who then consumes the victims.
It would be easy to say; Well, the fact that Tim often walked up close to bears to photograph them caused his death. However, examining the evidence shows that this was not the case entirely, but was a contributing factor. The attack and killings took place in camp the night before Willy Fulton flew in to pick Tim and Amie up. Sunday night, and not during the day while Tim was normally out filming and interacting with bears.
When a bear comes into a camp, especially at night, we know that this is not a typical bear encounter but a bear that has possibly been conditioned to humans and human food, trash, or an older bear no longer able to feed on natural foods as efficiently, and we know that bears sometimes came into Tim's camp at night during previous summer excursions. (Dr. Herrero 1985, Treadwell 2001, 2002, et al)
For Tim, this was nothing unusual. After all, he camped on established bear trails, or near intersecting bear trails, and had contact with the same bears every year and felt he knew each one personally. In each case, Tim would leave the tent as soon as he heard a bear nearby, and would calmly talk to them in his often child like voice encouraging and forcing them to leave. (Treadwell 2001)
How do we know that? He often taped the encounters.
So what happened? Here is my theory of what took place that cold and stormy night.
Tim and Amie decide to stay a week later than they had ever stayed in the past, in search of a favorite bear yet unseen. Bears in Katmai National Park typically begin to den sometime in October or November and go into hyperpagia in early September, as they try to gain as much weight as possible prior to denning by mass feeding.
The salmon run was at its end, and the river that flowed through the "grizzly maze" contained the last remaining salmon of the year. There is a possibility, as well as some speculation, that wilder unknown bears from the interior had possibly moved in, forcing out the bears Tim was used to seeing and interacting with each year.
The berry crop was also reported poor by U.S. Forest Service and U.S. Fish and Wildlife agents.
The older, larger bear that killed Tim and Amie had been ear tagged in 1990 after the Valdez-Alaska oil spill as part of a larger research project, and had the number 141 tattooed on the inside of it's upper lip. At the time of necropsy, 3 days after Tim and Amie were killed, bear #141 was reported to be "a scrawny, but healthy 1000 pound 28-year-old male that was probably looking to fatten up for winter, with broken canine teeth, and others worn down to the gums". (Dalrymple 2003 , Van Daele 2004) Right at the end of a three month long salmon spawn, which would indicate that this bear was no longer able to feed on natural food items as efficiently, as well as in competition with other, younger, stronger, more dominant bears for what little food remained, and we know from past experience that an older bear no longer able to feed on natural foods, will make more use of garbage, and often raid camps and cabins if it has ever had those food items available to it in the past.
Bears are opportunistic in obtaining food. Whatever is easy to get to while expending the least amount of energy. Brooks camp, a well known and heavily used fly in fishing camp is 60 air miles from Tim and Amie's camp.
My experience with camps like this is, there is always at least some garbage, trash or other food items laying around. Lets face it, humans are not exactly the cleanest animals on the planet, "what harm would it do to just toss this banana peal or apple core?"
The harder garbage is to dispose of, and in this case all garbage had to be flown out by plane, the easier and more available it is for bears in the area to get to. Brooks camp would also increase the amount of human encounters. Habituation to humans results in loss of fear. However, it is unknown whether bear #141 had ever gotten into or received some sort of food reward from humans. We can only speculate.
There was also speculation that bear #141 was a bear that Tim had never had contact with in past years. However, from statements made by Willy Fulton, the pilot that transported Tim and Amie in and out each year, "this was a bear he had seen before" on previous flights and was "just a dirty rotten bear, that Tim didn't like anyway, and wanted to be friends with but never happened". (Fulton 2004)
Likewise, after reviewing the video tape made by Tim 10 days before he was killed, it is now believed that bear #141 was a bear that Tim had named "Ollie, the big old grumpy bear". (Gaede 2005, et al)
Tim and Amie's friends have also speculated that "bear #141 was an abused bear", because it had been previously trapped, tranquilized and tattooed, and that the bear had actually hunted Tim and Amie that night, and "came for them". If this were true, then we would have hundreds, possibly even thousands of bears hunting humans each year, which is just not the case and has been an argument made since the early 1960's when bears were first trapped and studied. That somehow these same bears then want to get back at humans is just too far reaching. (Gaede 2005)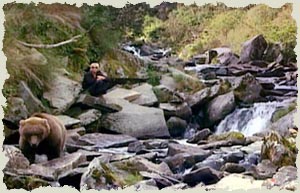 Tim At The "Grizzly Maze" © Lion's Gate Films 2004
Amie and Tim were in the tent on Sunday night chatting about that days filming and returning to "the world".
Open snack food was found in the tent untouched, so they were about to eat a quick snack before bed as the sound of a bear is heard outside. Tim leaves the tent and walks away from the tent and towards the bear.
As Tim leaves the tent, investigators believe that Amie instinctively turns the camera on, possibly as "her message in a bottle", and then asks Tim if the bear is still out there, and almost immediately the bear attacks. (Van Daele 2005, Readers Digest 2005)
I don't believe this for a minute. Having the presence of mind to turn a camera on with a bear just outside of a thin tent wall could only come from repetition, from someone who had done it many times.
Amie had only spent a few weeks, each of the three years that she had been to Alaska. Tim on the other hand, had spent months each year for 13 years, five of which carrying a video camera, and literally filmed everything! Every thought, every bear, every encounter, virtually every moment of every day, so that the camera became an extension of his body, and to think that Amie somehow knew that she and Tim were going to die that night is hard to believe.
I believe Tim left the tent and walked towards the bear a short distance, speaking softly to it as he had on numerous occasions, encouraging the bear to leave. The bear keeps its distance, and when it appears that this will be like any other encounter, Tim decides to tape at least the audio portion for use in future presentations, yelling out to Amie to turn the camera on, which startles the bear, who had been still up to this point, and triggers the attack. Up until that point, the bear had probably been sizing Tim up and making a judgment of threat level.
Amie turns the camera on and asks if the bear is still out there. Tim then yells for Amie to "Get out here! I'm getting killed out here!". Amie leaves the tent (the sound of a zipper and the tent door being opened) and sees Tim on the ground struggling with his head in the bear's mouth and yells for him to "play dead!".
Bears often attack, or defend themselves by first going for the head in an attempt to take out the opponents weapon; the face, mouth and head. Bear number #141 had worn, broken canines and was unable to make use of this tactic, along with the fact that the human head is just too large to fit directly inside of a bears mouth. "Often ripping and tearing the scalp, ears, and face". (Herrero 1985, et al)
In my opinion, Amie was able to drive the bear away initially, because this was an older bear who had become conditioned when dealing with younger, stronger, more dominant bears by moving away from the food it had just obtained after being challenged, and was probably startled by a second animal, Amie in this case, suddenly appearing and making a lot of noise.
After scaring the bear away, Amie and Tim have a short conversation while determining where the bear is, and whether it is still nearby. Amie is cautious and afraid, the tent is a secure refuge in her mind. Amie then walks over to Tim, and based on training in the hospital no doubt told Tim to lay still, but is then tested and driven away by the bear, and at this point in the attack I believe Tim realized that this was not a typical bear encounter, and that playing dead was not going to work and the wrong response, yelling at Amie to "hit the bear!".
Again, I believe this older male bear had become conditioned through repetition. In the past when this bear had been driven away from a freshly caught salmon or other food item, the need to eat and put on weight had no doubt caused this bear to then test the true strengths of the thief and attempt to re-take its meal. Hundreds of video taped encounters like this have been filmed over the years with many different bears. Tim had even filmed such encounters.
Once the bear had driven Amie off, I believe the bears predatory instincts took over and decided to drag Tim off to a more secure area after Amie returned and began aggressively attacking it with the frying pan, just as the bear would have done when dealing with other more dominant bears and a freshly caught salmon or moose calf.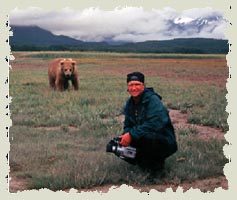 Photo © Tim Treadwell 2001
In video footage recovered from the camp, there was at least some video taken days or hours earlier, showing Amie sitting on the ground as a large bear sits behind her within 10 feet.
In this footage, Amie is obviously nervous and scared as she leans away from the bear. Likewise, we know from Tim's diary that Amie was frightened of bears.
Knowing this, I think Amie was #1: Reluctant to leave the tent and approach and attack the bear that was on Tim right from the start of the attack and #2: Not knowledgeable enough about bears herself to know that this was not a typical bear encounter, and that once she was able to push the bear away and had moved over to Tim, that she needed to fight back aggressively to keep the bear from returning, and once the bear tested her and she ran or moved away from Tim, that this triggered a predatory instinct in the bear to protect "its kill", and dragged Tim away to a safer location. Much as it would have done with a salmon or other food item when approached by other bears in the area.
In previous night time bear encounters around remote camps, individuals who aggressively fought bears that were attacking their friend, were in most cases, able to drive the bear away. "Grizzly bears usually enter camping areas at a walk and at night. Before an attack, a person seldom sees any signs of aggression" writes, Dr. Stephen Herrero in his book "Bear Attacks, Their Causes and Avoidance". Individuals who have aggressively yelled at the bear, or thrown rocks or other objects to distract the bear, generally have then had time to move away to safety or, they drove the bear away with the first yell and aggressive action. Night encounters are much different than surprise encounters during the day and must be handled differently. (Herrero 1985, Schullery 1992, et al)
However, in cases where individuals were able to drive a bear away during night encounters, but then moved away from the victim, either on purpose, or by the bear returning and "testing" this healthy person driving them off, the bear has in nearly every case dragged the victim even farther, and then killed and consumed him or her. Extremely rare, but it has happened. (Long 2002, McMillion 1998, Herrero 1985, et al)
Had Amie aggressively fought off the bear after she got to Tim, would she have been able to save him and herself? Had she helped Tim back to the tent after the bear had moved off after the initial attack, or had Tim and Amie brought a can of "Bear Spray", as they had on earlier expeditions, would they be alive today? Those are questions that will never be answered. Anything is possible.
I believe that, had Tim not walked away from the tent and towards the bear, and had stayed with Amie, or had they both left the tent and backed away from the tent giving the bear room, that the bear would not have attacked and both Tim and Amie would be alive today. Bears are more reluctant to attack multiple people than they are one lone individual. In this particular case, the bear came walking down the path that night and had no where else to go, but right through the camp with Tim and Amie's tent in the middle of the trail.
I partially agree with the investigators, in that Amie screaming had initiated the attack on her after Tim had been dragged off. If Amie had remained quiet, I doubt that the bear would have returned to her, which would have given her enough time to back away and get to the beach, where she could have hidden until the next day when Willy Fulton was expected to arrive, but when faced with the horror's she had just witnessed, who can blame her for losing her mind and screaming.
However, I do not believe that Amie's screams attracted the bear "like a predator call". There is no doubt that the sight's and sounds of Tim being dragged away from camp by the bear horrified Amie to the point where she lost her mind with fear. When left with nothing else to do and confronted with extreme danger, screamed even louder in hopes that somehow this nightmare would end and the bear would once again leave Tim. After all, she had screamed earlier and was successful in driving the bear away. No gun, no weapon of any kind except for a frying pan, screaming was all she had left.
Instead of attracting the bear "like a predator call", I believe this very aggressive bear was still attempting to "protect its kill". I believe that Amie more than likely ran after the bear a short distance, as it was dragging Tim up the trail screaming at the top of her lungs and striking the bear with the frying pan once again in a last ditch effort to drive the bear away, but was then pushed back to the tent a second time. The bear was then caught up in the "cat and mouse" chase that no doubt resulted around the tent, and the bears predatory instinct was triggered and Amie was killed.
This latter scenario can not be confirmed because thankfully for us the video tape ran out before it occurred.
An Unconventional Person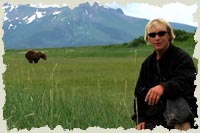 Photo ©Tim Treadwell 2003
This incident occurred due to " An unconventional person with unconventional behavior toward bears, camped in the middle of a very dangerous situation.". Such were the words of biologist Larry Van Daele in trying to make sense of this tragedy. Unconventional? Indeed.
Tim's foolish disregard for his own safety, and over confidence dealing with bears in the past, luck really, not to mention his mistake of placing anthropomorphic values on bears, and disregarding established federal guidelines when photographing and camping with brown bears contributed to both Tim and Amie's death. Grizzly bears are wild animals and should always be treated as such, wild and unpredictable. Not a pet, or lovable cuddly bear.
Tim would often tell listeners about the time he calmly defused a dangerous encounter with a bear, by talking softly to it. When the confrontation was over, he claimed to have laid down and napped next to the sleeping bear. Likewise, in a 1994 interview when he was asked whether he was ever afraid of the bears, he responded with saying "They wouldn't hurt me".
Did Treadwell have a special connection with the bears? Not all bear researchers think so. "I've been working on bears for a long time, and more and more I'm convinced that most of the credit for bears and people getting along goes to the bears," said John Hechtel, a wildlife biologist with the Alaska Department of Fish and Game.
"Bears along the Alaskan coast are well-fed because of the area's salmon runs. The salmon attract an extremely dense population of bears. So, the challenge for the coastal grizzlies isn't dealing with people — it's competing for food". (Hechtel 2003)
Throughout the movie, Grizzly Man, we see Tim in numerous close encounters, and very nearly attacked on several occasions. Because he was not attacked says more for the bears than to Tim's expertise in handling aggressive bears. He was just plain lucky for 13 years and became over confident in his own abilities. The fact that he was not killed earlier, just goes to prove that grizzly bears really want nothing to do with humans and would rather avoid us whenever possible, but will tolerate us, to a point. There are boundaries in the world of the bear, and in wilderness.
Each year, when Tim set camp within Katmai National Park, he voluntarily became a member of the food chain, and by not placing an electric fence around his camp (All bear researchers that camp in this area reportedly set up portable electric fences), by hiding his camp from park rangers in dense alder brush thickets, as well as refusing to carry bear spray (firearms are prohibited in National Parks) and by crawling and walking up close to large brown bears, often touching or attempting to touch adult bears and young cubs, showed a total disregard for his life, the life of his girlfriend Amie Huguenard, and the lives of each bear that he interacted with. (National Park Service 2003) The same bears he claimed to protect.
Who's to blame? Only Tim, and of course Amie for trusting Tim, but then who can really say? It is possible that this incident would have occurred no matter what precautions Tim and Amie might have taken. It is very easy to sit back in our nice comfortable living rooms and Monday morning quarterback what occurred far away and a week, or even years earlier.
It could be as simple as; Being in the wrong place at the wrong time. That's the risk we have to take to see the last remaining symbol of wilderness. Sometimes you get the bear, and sometimes the bear gets you. The more time you spend with grizzly bears increases the chances that the bear will someday get you.
A sobering thought for someone like myself. One who spends so much time each year around grizzly bears, but is also the thought that keeps me in check. It is far too easy to fall prey to your own self confidence. Always reminding myself that the more time I spend in "grizzly country" increases the chances that someday, something could go wrong "keeps me on my toes" at all times and always expecting things to "go south" at any moment.
Very strange things happen in the backcountry when you are least expecting it. No matter how many safety precautions you may have taken, or how prepared you might be.
I have to wonder though, Did Tim still think that grizzly bears were "mainly harmless party animals" as the bear attacked and then dragged him away from camp ? (Tim Treadwell)
Hero's and Nightmares
The true hero of this sad tale is of course Amie Huguenard, the one person in this saga that we know so little about. Who, even though horrified at the sights and sounds of Tim being eaten alive, stayed with a man she knew was "hell bent on destruction", overcoming her fear and fought a thousand pound grizzly bear with nothing more than a frying pan for at least 6 minutes in an attempt to save her friend and lover Tim Treadwell.
Knowing that both tents were knocked down, the contents, including open snack food, as well as their neatly placed shoes discovered untouched in the sleeping tent, sends chills down my back when I think about it, and I have often woke in the middle of the night drenched in a cold sweat knowing that Amie had retreated to the main tent as Tim was being dragged kicking and screaming away from camp.
Did Amie try and keep the tents between herself and the bear when it returned? Dodging and weaving around one tent, and then the other, out of her mind with fear? No where to go, no tree to climb, no police officer to call, and left screaming, running around the only barrier left between her and the bear, only to have the bear finally just go over the top and finally catch her?
The stuff horror movies are made of. Stephen King could not have dreamed of a more frightening sequence of events. I suppose that is my payment for knowing too much information, and being able to fill in the blanks. I only hope that the end came quick for Amie.
Grizzly Man – The Movie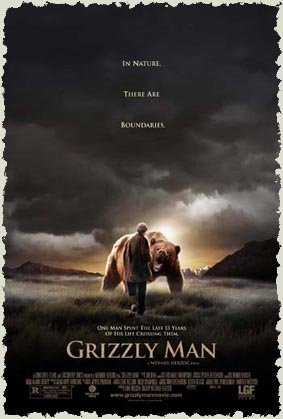 A final note on the movie Grizzly Man. In the last few minutes of the film, we see Tim walking across the tidal flats with two red fox following close behind. Pretty neat, and I have to admit I too have had similar experiences. Anyone that spends as much time in the field as Tim and I have, will no doubt have had similar experiences.
I remember once out at my bear viewing area sitting alone one day, and feeling a bit sleepy in the warm sun I decided to lay back and close my eyes for a moment, when I remember feeling that something was watching me. I slowly raised up and looked around, only to discover that a family of 6 coyotes had moved in behind me, the adult alpha's sitting within feet of me while the pups played nearby.
After a few minutes, I decided to get up and walk across the meadow, only to have the whole family follow along beside me.
The only difference between Tim and I is, Tim felt that the fox were kindred spirits, whereas I knew that the coyotes were looking at me as they would any other large carnivore in the wild, and that hopefully I would lead them to food much as a bear or wolf would do. Or maybe, I was the food!
Willy Fulton states; "Tim was a little smarter than most people gave him credit for. He made it out here a long time before they (the bears) got him".
No Willy. Tim was just lucky and his luck finally ran out.
Discovery Channel
After watching the special airing of the movie Grizzly Man on the Discovery Channel February 4, 2006. I, along with many others found it very curious that Tim's possessions and ashes were handed over to Jewel Palovak and not to his parents. From what I could find out, the only possession of Tim's returned to his parents was his teddy bear, which he carried with him his entire adult life, including all 13 summers to Alaska. (I have new details regarding this–to be added–basically, Tim wrote out and signed a letter to the park service claiming that he had no living relatives, and should he be killed, to give his possessions and remains to Jewel Palovak).
At the end of the movie, the Discovery Channel had a special interview with his friends, as well as additional out-takes of the movie. One scene that was not included in the movie was of Jewel Palovak and pilot Willy Fulton looking down on the decayed carcass of a young sub-adult bear. Jewel states that no bears were poached while Tim was in Katmai, but that after he died 6 bears were poached within the park.
The problem I have with this is, the decomposing bear carcass I saw in the out-take showed no actual sign of being poached, it was just a dead bear. Bears die all the time, they fight, they starve, they get diseases and other injuries, they die. In fact, in the movie Grizzly Man, Tim himself had video taped the remains of a young bear that had been killed and eaten by other bears.
Tim's friends claim that poaching "goes on all the time" and that Tim protected the bears while he was in Katmai, but if in fact there had been 6 bears poached after Tim was killed, I think we would have seen more conclusive evidence of this and probably the main reason why Werner did not include that particular scene in the movie. A decomposed carcass of a dead bear laying in the grass is just that—a carcass of a bear. Who knows how it died.
Jewel Palovak also states in her interview, that Tim was working with the park service, providing them with information on boat traffic, weather and other data collected. In fact, there is no evidence that Tim worked closely with the park service in any way. If Tim did provide basic information on visitor use, boat and plane traffic, as well as weather information, I would argue that it was more in passing during incidental conversation, and not with official record keeping. If Tim was working closely with the park service, why did he feel the need to hide his camps from them? Not to mention the temper tantrum he threw on camera cursing the park service personnel for harassing him. (More on this –I discovered only one official document which Tim used to track and record public use from June 27, 1999 through July 10, 1999 and one unofficial hand written document regarding weather for June 1-13, 2000. No other record keeping by Tim was turned over to the park service.)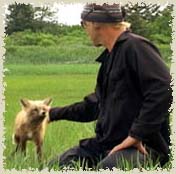 © Tim Treadwell 2003
One other thought came to mind after a short conversation with a Yellowstone biologist who is also interested in this story. It was very interesting, and rather suspicious, that every time Tim reached out to the fox in the movie, the fox would nip at or lick his fingers.
Was Tim feeding the fox? Had he also habituated the fox to him, as well as all humans by feeding them? If so, his concern for people killing fox then placed those very fox he was so desperate to protect in even greater danger the next time they encounter a human and expect to be fed. Not surprising the fox followed his every step. Documented video shot by Tim of him feeding the fox has been uncovered.
There have been quite a few comments made about Tim being responsible for Amie's death, I have actually struggled with this for several years now.
Without a doubt, Tim holds some of the responsibility for Amie's death. But keep in mind, Amie was a smart girl, she was a physicians assistant after all, no small feat. Amie was no doubt in love with this odd-ball, but she wasn't stupid, or weak, She could have left at any time. Tim did not handcuff or hold her hostage up in Alaska, Amie came and went of her own free will twice each year for three summers.
Watching bears and wolves in the wilderness is addicting. I know, I've experienced it myself and I have seen folks give up high paying jobs just to be able to do it. Don't ask me why because I can't explain it myself, and many people would never understand it, even if I were able to explain it.
Amie may have found the adventure of traveling to Alaska romantic and exciting and may have even found spending time with a quirky guy like Tim to be entertaining and a refreshing escape from her work-a-day life in the city, no doubt filled with dangers and freaks of its own, but the truth and reality is Tim did not kill Amie. A bear killed Amie.
This story just keeps evolving. The more we learn, the less we seem to know or understand.
I originally had thoughts of turning this into a book, but after much thought and consideration, I decided that in doing so, I would be profiting from someone's death. There are several books that have already been published, much too early in my opinion, and before most of the information I have been able to uncover has been released, all with their own theories and speculation. I hope that in publishing this story online, that this will prevent those authors from profiting from Tim and Amie's death.
Frequently Asked Question
Have you listened to the supposedly "real death audio" that is floating around on the internet, including UTube and is it real?
I have heard it and no it is not real but a fake or spoof. Jewel Palovak still holds the original tape and has no plans to release it. I hope that she never does. There is now a second fake version posted on UTube. The publisher of this latest UTube version stated to me in an email that he knew the audio he labeled as real, is in fact a fake. It was posted to draw traffic to his UTube page.
There are several ways to determine whether one of these recordings is real or not. Just recently I was given access to the first 2 minutes of the 6 minute tape. There are two sounds that have not been published that are unmistakeable and have been missing in each fake tape that I have heard. All fake recordings so far have been under 3 minutes in length and the real tape is 6 minutes. As I reported above in my investigation the bear is nearly silent. Bears typically make very little sounds, and each fake recording has the sound of a bear roaring, growling, and making all sorts of noises. In movies, bear noises are dubbed in electronically.
Literature Cited
AP Wire. 2003, Associated Press Release.
DeVoto, Bernard. 1953, The Journals of Lewis and Clark: Mariner books. 504pp.
Dalrymple, Derek. Katmai Park Ranger. 2003 National Park Service Incident Report, pages 11, 12.
Ellis, Joel. Katmai National Park Ranger. 2003 Scene Investigator. 2003 Park Service Incident Report; pages 1-9.
Egli, Sam. Egli Air (Helicopter) Haul. 2004, On camera interview: Grizzly Man Movie
Emery, Mark. Wildlife filmmaker and outdoor guide. 2003, AP Wire Interview.
Fallico, Dr. Franc. Alaska State Medical Examiner. 2004, On camera interview: Grizzly Man Movie
Fulton, Willy. Andrews Airways Pilot. 2004, On camera interview: Grizzly Man Movie. 2003 Park Service Incident Report pages 2,3,9.
Gaede, Marc. 2006, Discovery Channel Special, on camera interview. 2006, Email correspondence.
Hechtel, John. Wildlife biologist, Alaska Department of Fish and Game. 2003 AP Wire Interview.
Herrero, Dr. Stephen. 1985, Bear Attacks, Their Causes and Avoidance: Lions & Burford Publishers. 260pp.
Herzog, Werner. Director/Producer Grizzly Man Movie. 2004, On camera dialog: Grizzly Man Movie.
Liggett, Deb. Superintendent of Katmai National Park. 2003, AP Wire Interview.
Long, Ben. 2002, Great Montana Bear Stories: Riverbend Publishing. 175pp.
McMillion, Scott. 1998, Mark of the Grizzly: Falcon Press.249pp.
National Park Service, 2003, Treadwell Incident Review Board Report
Palovak, Jewel. 2006, Discovery Channel Special, on camera interview.
Readers Digest. 2005, Trapped: The Life Of Timothy Treadwell; A Cry For Help
Schullery, Paul. 1992, The Bears of Yellowstone. 318pp
Treadwell, Tim. 2001, CBS, David Letterman Show Interview. 2001, Discovery Channel on camera interview. 2003, Personal diary entries. 1997, Among Grizzlies: Living With Wild Bears in Alaska.
Whittlesey, Lee H. 1995, Death in Yellowstone, Accidents and Foolhardiness in the First National Park: Roberts Rinehart Publishers. 217pp.
Van Daele, Larry. Biologist, Alaska Fish and Game Dept. 2005, Readers Digest Interview. 2003, Treadwell Incident Review Board Member. 2003, Scene Investigator
---
---
Night of the Grizzly – A True Story Of Love And Death In The Wilderness
SKU
UPC
Model
He was ignorant
Enjoyed your artical. Having followed this story for years I applaud your research. My thinking is that even though he spent years in the bush with bears, he was in denial. Hed convinced himself that they wouldn't hurt him, refused to take or listen to advice from the rangers and had basically thrown himself into the food chain. Bears are opportunistic feeders. They have to gain as much as possible to survive hibernation. Tim planted himself right smack dab in the middle of a bear habitat with no thought as to his own welfare or Amies. Granted, no one held a gun to her head and made her stay but I believe he convinced her that he had a special repertoire with bears and they'd be fine. Basically he was an idiot for thinking that. It was an unfortunate situation and I feel bad for their families but, to me, shark victims do the same thing. They go in the ocean and put themselves in the food chain, get bitten or killed by a shark and it's the sharks fault. People need to respect wildlife. It was their world first.

---
Cause and meaning
I found your article to be very insightful and offers very compelling theories. We are all too aware of the key reason for this tragedy, but it is such a disturbing tragedy, many of us want to know more - if not for only educating ourselves. The director of "Grizzly Man" said in another interview that this tragedy shows how we have become too "Disneyesque" (or something like that) with our view towards wildlife, and I agree. Admire them, but respect their needs and distance. It's really not that difficult to do.

---
Unfortunate
Mar 07, 2019
by
Kimberly A Klaus
Tim meant well, but I was angry with him for being so foolish, carrying on like a child because the mean old park officials were trying to protect both him and the bears. He got some amazing footage for sure, but it wasn't worth it. Nature must be treated with due respect and he didn't do that. He acknowledged that what he was doing could result in his being killed, but he didn't believe it would happen. Sorry Tim. Hopefully your death and Amie's will serve as a cautionary tale to others.

---
Grizzly Man
Mar 04, 2019
by
Ken Hewgill
Sorry that it turned out so bad for him but I think he was a bit of a nuttbar.
Bears are wild animals and WILL eventually eat you. To think otherwise will only get you killed. RIP Timothy.

---
Amazing Read and Beyond Crazy T.T.
Mar 02, 2019
by
Donna Belle
I have followed this event and the T.T. story for years. This article seems to contain as many true facts as possible & available.. I appreciate the author's patience in saving his opinions at the end and noted them as such. My opinion of T.T., is he was an egotistical, self-serving, lying, dangerous, fairy tale driven goofball that used up his 9 lives over the span of 13 years. I believe that he conjured up his delusional behavior that ultimately harmed the grizzly bear and snuffed out his life. I think that Amie bought his delusional lifestyle that ultimately cost her life as well.

I applaud the author for a well written and thought-provoking article.

---
Grizzly Man
Feb 01, 2019
by
Daniel H. Koval
good intentions often pave the road to hell respectfully Daniel H. Koval ps. back in the 60's or 70's a large brown bear (grizzly) attacked a group of campers @ a state park. @ night. I believe the name of the book was the night of the hunter. book is available @ barnes & noble. I also appreciate you knowledge of the brown bears origin. brown bears are from Siberia in Russia they walked across the ice bridge that connected Alaska with Siberia many thousands of years ago. good bye and good night.

---
Jan 28, 2019
by
Shawn Stocker
Watched Grizzly Man lat night. Came to the conclusion just from observing Treadwells demeanor and actions from his homemade videos, that the man was a nut job. I hunt, and consume what I eat. Bear is not on my menu. Tried it as a child growing up in Alaska, and was not fond of it. However I too have a love of AK bears, and bears in general. Such majestic powerful animals. (beautiful) But I would not attempt to live with them in this ,manor by any means. Was fortunate to see a beautiful Grizzly while hunting in Wyoming this year (From 200 yards away) close enough for me. The man was LUCKY to have lasted that long (13 summers) with those bears. All I took away from watching this documentary, was (1) He was just a lucky SOB, and (2) he was bat-shit-crazy.

---
Tim's Mental State...
While I'm not qualified to diagnose mental disorders, as a person who has bipolar disorder (successfully treated with a daily medication regimen) Tim shows many of the hallmarks of non-medicated bipolar disorder. Recklessness, extreme risk taking, substance abuse, lying, and a litany of other symptoms are all classic signs of mental illness. As I said, it's not for me to say Tim suffered from mental illness, but he certainly displayed much of the behavior.

---
Jan 19, 2019
by
jana lalewicz
Ummm yea Ioana I think YOUR THE ONE interested in the sex, not the bears. They camped a the intersection of a number of bear trails. THATS what brought the bear walking down the trail past their tent, not because the bear "smelled sex". Sweet jesus is that all anyone thinks of?....I think this guys luck simply ran out and that bears really aren't all that interested in us unless theyre old, sick, deranged, or incredibly HUNGRY! That and Amie's screaming and the way she behaved kept the attack going. I don't think there's anything either of them could have done to prevent the attack. I agree with the author. I think Tim called out to Amie to turn on the video recorder and that caused the bear to initiate the attack.

---
Jan 18, 2019
by
Minnesota
I saw the movie poster before but I have never watched the movie. I happened to see the news of a woman swimming along a huge shark this morning and went to comment section. And some guy related this event to a man who lived and got killed by grizzillies. This made me curious and I staredt looking for the grizzilly man. I didn't know it was such a tragic story. And I feel the most sorry for Amie that she witnessed the accident then she later became the next victim. I don't understand why she had left what she had to get into this. Your article is great in details and hypotheses. Thank you.

---
Suicide by Alaska
Jan 18, 2019
by
Lana Creer-Harris
I worked for the National Park Service for 15 years and my husband was Park Service his entire working life. WE were living in Nome when we heard about Treadwell and we both said, "That will not end well" WE expected Treadwell to die by bear, but he took an innocent bystander with him. That is unconscionable. He was delusional. She was emotional, as I understand from this piece. The recording is harrowing. As a dedicated berry picker I learned to look out for bears. They were not to be taken lightly. It sounds callous but we called what Treadwell did: Suicide by Alaska.

---
Night of the Grizzly
Jan 17, 2019
by
Donna Small
A well written piece. I remember when Tim appeared on TV years ago to talk about his bear encounters. I thought then, as I do now, bears are fascinating creatures but they need to be left to live their lives in the wild and not as a buddy.

---
Live by the claw..die by the claw
Really??? A memorial for a man who was so ill equipped in his own world!? Lets try mourning those kids with cancer and NOT who plays (stupidly) with Bears!

---
Live by the claw..die by the claw
He said live and die by the claw. He did! As he said. He endangered his self and others for a cause which was beautiful " but in a sane mind ( not his)not very well exicuited. He died for his passion, but his ignorance of these HUGE majestic creatures, who he thought were his 'pals'...was his serious, mental lapse in sanity. I do not feel bad.

---
Fascinating read
Really enjoyed reading this, I somehow on a whim came to be here after seeing a facebook post with a man who cares for a 'tame' polar bear.

Can't tell you a lot about what went wrong with Tim and the bear on that fateful night,but I can tell from reading this, that the man had a deeply unhappy childhood. Something happened to him that led to his addictions, mistrust of human society and longing for kinship with another species. If any other evidence were needed, his statement of having no family is good evidence.

Personal experience leads me to this conclusion. Humans are pack animals and when deeply wounded by our own kind we still need to seek pack elsewhere. Most of us just choose dogs. I feel very sad for this man, and his partner, that whatever happened to him eventually led to their terrible demise. But again, perhaps not entirely surprised. Part of him knew the risks, and perhaps felt he deserved that kind of dangerous and risky relationship, where so much was staked for a few precious moments of connection. Abused people often demonstrate such paradoxes. The situation he found himself in, and his poor girlfriend, were undoubtedly his responsibility, but somewhere back along the timeline, I've no doubt, he was also the victim.

---
Night of the Grizzly
Nov 25, 2018
by
Elizabeth
I applaud you for your fantastic read as I sit here and cant imagine what Tim was going thru once that bear came.charging at him which he isnt used to...its a sad story that has had me looking for any information on that night,yes I heard that fake recording as well and whoever put it up to just get views is pathetic. You are such a humble man to.have put all this information about Tim&Amie and I'm glad I stumbled across this read.

---
I wonder what Willy Fulton actually saw when he thought he saw Tim shaking out a tarp?

---
Great article. Loved it, and i think well thought out and a good analysis - considering the brevity. I entirely agree with the posts, though as "harsh" as they are, such "a big mouth" full of " hubris, pride and overconfidence" not to mention a fraud - The false making "friends" with the fox is very much akin to the current environmental activist, socialist/democrat and of course "Dreamers"- idealizing animals to appeal to puerile intellects. I am sure Tim would be their hero (druggie, boozer - all the better) in "tune with nature... live'n the dream" !!

Love the quotes "revenge" of the "abused bear" !! hahahah childish stupidity at its best. Surreal !!

I am afraid that with the Disney's influence, in the early 60s each generation is been becoming dumber and dumber and now we have reached to a level of stupidity never seen that is spreading throughout the west like a pandemonium - no wonder The Walking Dead is so popular, people relate.

---
Seems strange...
Well written and informative... I am curious as to why Treadwell would not have instructed the park service to give his possessions to Amie in the event of his death? Perhaps Timothy suspected that if he were to meet his end in the wilderness, Amie would be meeting her end with him?

Treadwell was using the bears to make his life "mean something". He craved attention, fame, and respect. To some extent he was successful in acquiring this for himself... in life, but also in death.

It is my opinion that Treadwell was mentally ill. Delusional disorders are characterized by exaggerated beliefs of self-worth, power, knowledge, identity, and an exceptional relationship to a divine being (or in Treadwell's case a "divine" species - bears). Treadwell has displayed ALL of these symptoms in his recordings. Keep in mind I have never met him so I am only speculating - not diagnosing!

Many mentally ill (schizophrenia, bipolar, drug-induced psychosis, etc.) people have grandiose delusions... Treadwell's viewers (and, unfortunately, Amie) were Treadwell's followers - they watched in awe which reinforced his sense of invincibility. This reinforcement of power gave Timothy a "purpose" which ultimately led to his demise. If Treadwell believed he was "exceptional" it would make sense that he wouldn't carry bearspray/weapons.

When people go into the wild, they should be silent observers. Unfortunately Treadwell did not understand this... he has done a great disservice to the bears by interacting with them and interfering with their world.

Very sad story. Neither of them "deserved what they got"...

---
Questions questions
All in all, while I can understand withholding the incident tape - if it makes the surviving friends feel better - ok. But there is this unbelievably judgmental sense that somehow it is "right" or even "righteous" to make sure no one from the general public hears this. I suggest reading Gavin DeBecker's "Gift of Fear" on the topic of why people slow down for car accidents - which he believes is simply representative of a human desire to know, and possibly even understand in order to avoid getting into the same problem. On the other hand, if you listen to that fool Werner Hertzog, he seems to imply that all the rest of us are a leering, slavering bunch of ghouls. I think not, and I think hearing the actual tape would be both appalling and instructive. As far as all the judgment, I say shove it.

---
Great Read
This puts it together very well and satisfies almost all of my morbid curiosities. Having been around Brownies on Sweetwater Creek and in Hoonah, Juneau, and other places I have learned to give these magnificent creatures a lot of distance. If, by chance, you are blessed to see one at a distance, it is a God wink of an experience to briefly relish, like a shooting star. But don't go looking for them and for God's sake make your encounter brief. Always be prepared with a defensive weapon (spray or firepower). You capture the horrors of facing one of these creatures unarmed very well. To think of how much firepower it took to drop one of these bears down (.40 cal--worthless but two 12 gauge shotguns most likely with 3 and a half inch magnum slugs at five shots each) in your story really makes me wonder how much of a chance you would have under any circumstances. Well told. So you actually heard the authentic recording?

---
Fox & the Tennis Ball
Great read. I met Timothy as a child when my family and I were camping on Kodiak. He made a complaint about us saying it was inappropriate and unsafe for an "old woman" (my mom, who must have been 40 at the time)and two kids to be there.
We later camped at one of his old camping spots a few years later after he died, and one of those little red foxes came up to us with a tennis ball. We learned that Timothy played with a tennis ball with them. It was eerie seeing that fox come up with his tennis ball in its' mouth.

---
In the meadow
The article is great and as an "old" fan of the wilderness and it's wildlife many a different sound or smell is usually investigated by some animal or other. Now of course this is only speculation but as a young couple in love, alone in the wilderness, what would you be doing at that age with no TV to watch? With all animals I suspect the bear included, would want to check out where those sexual moans and groans were coming from. And we all know about the sexual smells. In this movie I saw once a daughter comes home after meeting her beloved and her mother was there to meet her at the door. The mother was a bit put out when she said to her daughter, "Where have you been? You smell like sex.".....

---
Sep 20, 2018
by
Cynthia Clark
As much as I love the wild this guy was a sitting duck and was a bit on the weird side anyway! I watched the movie. No ONE IN THEIR RIGHT MIND would intentionally set themselves in the middle of bear traffic unarmed! He invited Amee and He caused her death! She must have been a bit mental as well! I think that audio tape SHOULD be released so the next moron that thinks this fool was less than a fool and wants to follow in his path, will know what their death WILL SOUND LIKE! He was nothing more than a midnight snack! Wild is wild, food is food, survival of the fittest!

---
Amazing.
This is such a good read. I love how much detail and explanation are going on. Really get to understand what happened and the feelings behind it.

---
Thank you very much for writing this. I've been interested in Treadwell's life and death since I read a Reader's Digest article about him years ago. While I greatly enjoyed "Grizzly Man", it's nice to have not only a comprehensive write-up on the matter, but a perspective from someone who has walked where Treadwell once did. (I also appreciate that you addressed the matter of the fake YouTube audio. I've been wondering about that myself. for some time.)

---
Darwin Award Winner 2003
Aug 23, 2018
by
The Big Kahuna
This man was a fool who did no more good for his beloved bears than any idiot who jumps into the lions den at the zoo. His hubris, pride and overconfidence in his abilities, rubbed off on his naïve girlfriend who also wound up on the menu. His ranting and raving against the park service was comical, and it was hard to feel much sympathy when he met his fate. A cautionary tale, for sure.

---
Night of the Grizzly
Aug 22, 2018
by
Douglas Bower
This is not a criticism of your work, have you considered updating your report to reflect some information that has come to light since you wrote this report? I am referring to the time of the attack, it has been determined the video recorder did have a working time stamp and the time of the attack was about 1:45 pm on Sunday. Everyone is confused as to how and why the recorder was switched on and the official report stated it was found zipped inside it's bag in the tent. There is a good explanation for this, the recorder has a setting to allow it to start recording when the external microphone detects sound. It is obvious Tim had the remote mic on his body and his speech activated the camera.

---
Excellent read.
Aug 19, 2018
by
Eva Bennet
Thank you for this supberb insight. It really does seem Tim was delusional, or he actually knew he was dicing with death. As he survived an overdose he may well have thought himself invincible. Amie was frightened of bears and still went amongst them, perhaps she seen Tim as her protector, perhaps he had convinced her as much as himself she would not be in any danger. It really is irrelavent that she was highly intelligent, being in love can scramble the sharpest minds. Also, I do not give a hoot about apostrophes.

---
Night of the Grizzly
Aug 14, 2018
by
Steve Smith
You shed more light, on this now almost 15 year old tradgety. Treadwell was a troubled person, a man child,Peter pan syndrome, yet he was also a human being.He gave up a deadly addiction, and sadly replaced it with what would turn out to be another, thank you for taking us where Grizzly Man did not.

---
Night of the Grizzly
Aug 01, 2018
by
jimmy wiggians
Thanks for this more informative view. Perhaps some are drawn to the horror of the story but i think many more are to the piculiar puzzle that was the mind of Timothy Treadwell. You summed it up best by by making a point to all to forget everything else as it boils down to luck that ran out. Thank you.

---
Main culprits
These are not all of the corrections a good proofreader would offer for your text - mostly, they just resolve the apostrophe confusion:

"once smashed up the family's car [altered "families car"]...

rangers Dalrymple and Ellis [altered "ranger's"] ...

discover Amie Huguenard, whose arm and fingers [altered "who's"]...

coveralls [altered "coverall's"] ...

the top of the bear's head [altered "bears"]...

the fading sounds of his screams [altered "scream's"]...

Let's face it, humans are not exactly the cleanest animals [altered "Lets"]...

since the early 1960s [altered "1960's" (some editors divided on this, but wise to remain consistent with your earlier instinct, "late 1980s")]...

Willy Fulton was expected to arrive but, when faced with the horrors she had just witnessed, who can blame her for losing her mind and screaming? [altered from "Willy Fulton was expected to arrive, but when faced with the horror's she had just witnessed, who can blame her for losing her mind and screaming."
Interrogatives always end with a question mark - even rhetorical questions which require no reply; statements never do (though modern West Coast rising cadence might seem to demand a question mark)] ...

There is no doubt that the sights and sounds of Tim being dragged [altered "sight's"]...

the bear's predatory instinct was triggered [altered from "bears"]...

Heroes and Nightmares [altered "Hero's"]...

the adult alphas sitting within feet of me [altered "alpha's"] ...

---
First rate break down. Sorry to gripe about apostrophes.
I really appreciate you putting this together.

I had been meaning to catch Grizzly Man since it came out.

Now, having caught it, I inevitably found myself hunting for more on the unfortunate, elusive Amy, scared of bears yet prepared to camp with Tim - and this led me to your page.

Well done. I think your analysis is spot on - it reads beautifully, and I am grateful for it. I think you were absolutely right to offer a concise account rather than publish a whole book.

The only small reason why I might have preferred a publisher is that a proof-reader could have helped to prevent you perpetuating our recent, ever growing confusion about how and when to use apostrophes.

Conventionally, the apostrophe was used in abbreviation - to indicate missing letters. It ought NEVER to be used in the pluralisation of words. For that, a single "s" will do (or "es" when the word being pluralised already ends in "s" - eg. "buses," "The Jameses").

For historical reasons (contraction of the possessive determiner "his"), apostrophes are most frequently used correctly to imply possession. They occur before the final "s" - except where the noun has already been pluralised with an "s" (eg. "the bears' appetites") — here the final "s" is skipped (the reason, if you're interested, is that a contracted possessive determiner would logically be "their," not "his").

An exception to the above is the word "whose" - which, for centuries, has been the appropriate possessive determiner for the relative or interrogative pronoun "who." When used with the word "who," "'s" implies contraction of the verb "is."

Eg.: "Who's afraid of the big bad wolf?" or "Who's coming with me?";
as opposed to, "Whose is this coat?" or "The pig whose house was made of straw."

When you see it written correctly, as a reader, I'm sure you recognise that this is right.
But, increasingly, people's main source of reading has been social media like YouTube — where a large number of commenters are typing fast, publishing without editors, and accidentally make bad choices. I believe this is what has led to current confusion.

If you would like me to send you back a version of your page with just the syntax correctly adjusted (a handful of very minor alterations), feel free to email me at mac@macline.co.uk

---
Night of the grizzly
There is so much to say and at the same time not much that can be said at the time in his head he was living a life he dreamt of with out really thinking after awhile and Amie got caught up as any one of us probably would have with the romance of it for some one who is not 100 percent in it it's easier to hear it then live it and by the time she realized it it was to late a lesson to everyone surcomming to passion can become a dangerous way to live

---
Game of Death
The reason we even know about Tim is his absurd Death. With his big Mouth he provoked his Death. What is even worse is the Tragedy he provoked. Such Imbeciles rightfully should be banned form Nature. As a Biologist myself, I can not see anything positive in the Life of this Mad Child refusing to grow up and mature. Abusing Animals as his Kinder Garden pets he mad himself entitled to play with. Persons like him do only harm - they should be arrested by responsible Park Guards and deported with a very hefty money fine. Absurdly there is a market for such close up videos to make such a life possible as an absurd Business. A strange coincidence: Tim was killed by Bear 141. The other self styled hero, Chris McCandless found his Death in Bus 142. A Peter Pan Generation trailing in Never Land...

---
Fantastic article!
Jun 02, 2018
by
Cole M Lambert
Thanks for the well written article. Lots to think about and consider.

---
Balanced informed and insightful
May 31, 2018
by
Kym kilpatrick
Thank you for this obviously insightful and informed analysis. Grizzlies deserve our protection and like any wild animal should be neither demonised, sanctified or anthropomorphised. To do any of the latter is to do them a grave disservice. Tim, it seems, despite his love of the bears and the good he did also did the latter, leading to the tragic consequences for all involved.

---
Wow
This was definitely an eye-opening read. What amazing information and layout of scenes. I believe Tim was a fool, Amie shouldn't have done something she was uncomfortable with, and I feel that the Park Service was right to harass him about his stupidity. I learned so much from this, thanks for all the time you spent on research!

---
Night of the Grizzly
Feb 15, 2018
by
Dr. Sammy Wyatt
Thank you for writing such a powerful and honest story on Tim and Aimee. I have been entrigued with th life Tim led and his passion for the conservation of the bears. I have watch "The Grizzly Man" so many times, that I feel like I personally knew Tim, when in fact I did not. I spent a career in law enforcement and I have investigated many deaths. Just imagining what Tim and Aimee went through when they were being attacked by the bears just crushes my heart and causing me to gasp. I have heard the fake audio circulating on the internet, and knowing it is fake, I still can see them being attacked. Your article articlulated the facts in a clear and concise manor, which led me to visualize the attack as well. I pray the real audio of the event is never released. Anyone who has worked around death would not want the audio released.

Again, thank you for writing such a great article. Sadly, I wish it was one that an ever had to be written! May Tim and Aimee Rest In Peace! I would love to see more video of his work. Such passion!

---
Incredibly sad story. Tim seemed the need to escape from something. First through his alcoholism/addiction and then his need to live dangerously close to wild bears. His overconfidence proved to be fatal. Amazing he lasted that long but it was inevitable. Sad he was so naive. Questions: Was he really a conservationist......did he teach anyone anything about the life of bears or bear safety? I don't recall. Did anyone interview the family? Great article. Good for you bro.

---
Audio of bear attack
Jan 17, 2018
by
Kathleen Deacon
The author claims that the death audio that is posted on Utube is fake. I'd have to argue that it is unmistakably Treadwell 's voice.
Perhaps the audio should be authenticated or the voice analysed.

---
Thank you for shqring your story. Found it thoughtful. Truthful and Did not shy away from the realities.

---
A good man but unwell.
I personally get super annoyed when people say Tim Treadwell not only got himself killed but took an 'innocent' person with him, as if his girlfriend had zero choice in the matter or couldn't think for herself. She was a physicians assistant for Petes sake which literally means she practiced medicine. She made up her own mind. The other thing that bothers me is when people say he was killed by one of the bears he spent time with, when in actuality he was killed by an old bear that was starvibg buy couldn't animal prey, which are much faster than human prey.
Lastly, I hate that people insult him at all, it is so obvious he was unwell mentally and always had good intentions. But when someone is mentally ill, a little compassion is warranted, something that is rarely afforded Timothy's memory. Sad.

---
Well put views and cold hard facts
Thank you for having this information and freeing it with genuine care. Your heartfelt and raw honest approach made it so meaningful. As a 24 year old living on a fairly isolated mountain near the smokies I know a little about wild life and I love animals but sometimes love means distance. My favorite encounters are the ones where we give one another a passing glance and go our separate ways..them into their jungle and me into mine...the medical field lol. The only really close bear encounter I had was driving down a country back road that has a fair amount of traffic due to underage kids wanting to get their new trucks dirty...a small bear crossed the road as I slammed my breaks and watched it pass right in front of me. I fought the ol urge to whip out the camera and just watched as it fought to climb an embankment. I wanted to get out and help the poor baby bear but knew the danger the bear and myself would face. Now mountain lions...I jet at the sight of those bad boys lol. Much appreciation your way for the info.

---
There is a troubling undercurrent with Treadwell
Oct 12, 2017
by
Hugo Hackenbush MD
Well written the final chapter in a mystery people have wondered about. We listened to TT interviewed on TV and radio or read newspaper accounts of the magical effect he seemed to have over very wild and dangerous animals. Later word came out the he had been killed, but no details. The story you have written was engrossing extremely well written.
Have you thought about the possibility that TT was compensating by doing rugged and dangerous actives to deal with his homosexuality? I have known, grown up with kids who since elementary school were very different, later on I did understand that they all came out, declaring themselves as gay. Some were overly effeminate others he-man types. A few dated women, no one married the opposite sex. TT is the most effeminate person I had ever come across. With his "free to be me" ways, life may have been pure hell for him as a child. So do you show your courage by engaging in behaviors none of his pursecuters would never have the courage to do? And he took a woman with him.

---
Very interesting and insightful

---
timmothy treadwell
thank you for this imformative insight on Timmothy tredwell and Amy Huguenard

---
Jul 23, 2017
by
Thomas moore
I believe a stone monument ought to be placed in the bear country Alaska with Tim and Amies picture on it . Tim loved those bears but became careless on that night.

---