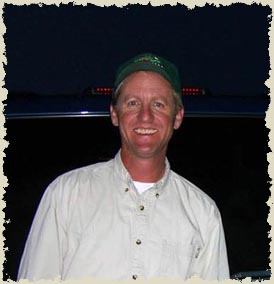 Just a few of the hundreds of nice words, notes and compliments I have received in the years of guiding & teaching.
Full Day Yellowstone Tours
Ben and Michele Oswalt:
"Kev,
Just a quick note to again thank you for a great day ! We enjoyed the tour, the scenery and of course our time with you. Your love of the park and life is infectious (in agood way:)………..One more time Kevin, you are the man! Thanks from some new friends!"
Jim and Cheryl Hajek:
"Hi Kevin,My husband Jim and I just wanted to send along another THANK YOU for the terrific guiding that you did for us last Sat. We really enjoyed all that you showed us and your knowledge of the park is incredible! We believe that without you we never would have seen as much as we did, we probably would have driven around for hours seeing only a fraction of what we did see. Thank you again!!!!"
Sharon and Charlie Sima:
"We cannot thank you enough for sharing all your knowledge with us, it made for a most memorable day,the real highlight of our trip. you are very good at what you do, and i hope you are able to continue for many years to come, people who meet you are very lucky people, I am so glad we got the chance to meet!"
Nancy and Larry Levitt:
"….we went on (a Grand Teton Tour, after you guided us through Yellowstone). The guide that took us left his job of many years as a Fedex driver last fall and this was his first summer guiding. The first "fact" he told us was that "the Tetons are almost as big as Yellowstone". It went downhill from there. He knew nothing of the history or any other facts about the mountain range. You spoiled us.
Thanks for a wonderful day!"
Nancy Cook
Fathers Birthday:
(My dad) "has been raving about their day with you. What I think they enjoyed most was the fact that you made it so easy and effortless for them! They loved hearing all your stories about the park: its history and all about the wildlife………….All-in-all, it was a great week for both of them — a pretty wonderful birthday memory for Stan-the-Man. You were a big part of the success, Kevin, and I thank you so much. I wouldn't hesitate recommending you to anyone I know who plans to visit the park."
Kevin Kenney
Bischoff, Kenney, and Niehaus; Law Offices:
"…..it was your knowledge and enthusiasm, which made the weekend so enjoyable. We look forward to seeing you again next summer!"
Kenji Machida
Law Corp.:
"The whole family agreed that our outing was worth a lot more than you charged us. Look forward to doing it again next spring!"
Goldstein Family:
"We really enjoyed the two trips into Yellowstone we took with you! You are a terrific guide!"
Reichard's Family:
"…….just wanted to send a big THANK YOU. The time we spent with you was awesome, and we all have memories that will last a life time! "
Gerald and Dee Kline:
"[We] really enjoyed touring Yellowstone with you……We could not have asked for a more enjoyable, informative day or more pleasant person to guide us through the park………..Thanks again for taking good care of us…."
Hiking Tours
O'Connell family:
"Our day in Yellowstone was the highlight of our vacation! We all learned so much, friends and family are already getting tired of hearing from us – spouting information on everything from super volcanoes to the grooming habits of ravens! It's easy to convince people that a private tour is money well spent!"
Montana Wilderness Association:
"Judy arrived back at the office absolutely glowing from the experience! …….your love for Yellowstone is contagious!"
Jim and Lisa Thomas:
"Kevin, you are the greatest! It is amazing how excited you are to be in Yellowstone, even after so many years! and are able to answer questions like its the first time ever. We look forward to next year!"
Bob and Tony Roberts:
"Out of all of the guides we have hired in the past years you get the award of being the best! Your excitement is overwhelming!
Davis Family:
" Thanks for making our visit to Yellowstone such a memorable one! …………the entire family has not stopped talking about our hike with you and the sights and sounds. Spending the day out on a trail was so much more enjoyable, and relaxing than dealing with the crowds of tourists on the boardwalks and roads…………this was the highlight of our short visit!
Jim & Kathleen Heine:
"Just wanted to say thanks again for your expertise on our guided hike and bear tour! We thoroughly enjoyed it all and learned so much in the short time we were with you………Thanks again. When we come out again, we'll be in touch for a wolf tour for sure."
Backcountry Bear Viewing Trips
Goldmark family:
James Goldmark: "I can not tell you how wonderful that day we spent in Yellowstone viewing bears was.
There are so many things that impressed me about the day. But in particular, what impressed me most was the care you take in not disturbing the 'natural' experience for the bears, the way you choose not to exploit the position you are in, and how nicely and cordially you treated our family in general.
I must tell you I am awed by your passion and the way you have dedicated yourself to what you do, and the fact you do it in such a humble fashion. You are truly a role model in so many ways, and I just am so thankful that the role you 'play' is filled by someone like you."
Chris Reynolds family:
Your bear viewing tour was the highlight of our trip! Thanks for everything!
Dr. Charles E. Stewart, M.D.:
"Thank you very much for your excellent trip……..It was the highlight of our short stay!"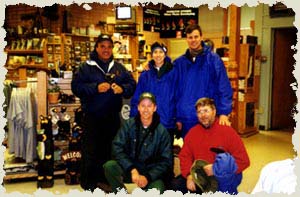 Kevin Correa (2nd row on left, bearman 1st row on left):
"I just want to thank you again for a wonderful trip …. The following day we couldn't stop talking about our experience! You truly have a great personality and have considerable knowledge about Yellowstone, the bears, and wolves. It was one of the most exciting trips I have ever been on, and we all felt like we were in the middle of a National Geographic film!"
Mike and Sandra Chedwick
Decatur, GA:
"Thanks, we actually enjoyed being out there in Griz country even though we didn't see any bears. You were a boat load of info and we will be back again! "
Shari and Rodney TeSlaa
Grand Rapids, MI:
"…… we had a great time in Yellowstone, and we really enjoyed our time with you. It was fun to learn about wolves and grizzlies from someone who really knows about those animals. "
Reichard's Family:
"…….just wanted to send a big THANK YOU. The time we spent with you was awesome, and we all have memories that will last a lifetime! "
Jim and Millie Gleaves:
"Thanks so much for the wonderful trip that we had with you. We both had a great time talking with you and seeing the bear habitat. Our feet are back in Tennessee but our hearts are still in Montana! "
Bush Family
bush family
"Just wanted to tell you again what an excellent time we had with you scoping out the bears along the tree line. We took a poll and we all agreed that our bear (tour) was the highlight of our trip to Yellowstone. Being in the backcountry with an experienced wildlife biologist sure beat rubber-necking along the roadside and was a much more memorable experience……"
Jim & Kathleen Heine:
"I just wanted to thank you again for making our experience at Yellowstone so memorable. You are so informative and a lot of fun to be with as well. The hike and bear watch were both so much fun……….Thanks for everything Kevin. I'll think of you every time I see a krispy creme 🙂 "
Tim Rogers:
" Just wanted to follow up and tell you how much we enjoyed our time together in Yellowstone. My boys are still talking about it……….. We had a a wonderful vacation and will always remember the time we spent with you- despite the rainstorm!"
Winter/Spring Wolf Viewing/Photo Tours
Jo, Fran, Ashley, MaryBeth, and Pat Group:
Thanks for a great trip! If the women in this photo look like they are frozen, it is because they are!! (Minus 39 degree's)
Dave & Sue Porter:
Hi Kevin,
I just wanted to take a minute to thank you again for providing a wonderful experience for us on Jan.2, 2007. We had a great day….the boys haven't stopped taking about it!
You were a delight!
Jim and Joellyn Barton, Ottumwa, Iowa:
"Watching wolves and grizzlies in Yellowstone with you and your knowledge and expertise was much more rewarding and exciting than the whale watch tour we just completed off Bar Harbor, Maine and Acadia National Park."
Claus Ranglack and family:
"We have enjoyed your wolf updates over the last few years. We greatly enjoyed the tours you took us on. Thanks for all the hard work you've done. Here's a pat on the back!"
Eric Lyon:
"Thank you for a wonderful experience watching the wolves in Yellowstone! You were great to spend time with, and are obviously very knowledgeable about wildlife and the Park. You are a true professional and I feel fortunate to have spent time with you on our trip!"
Craig Buck
Travel Masters:
"Peter & Dimitri had an incredible time! Peter could not believe how close you guys got that one morning to the pack. He's a very satisfied customer! I'll be sure to send more "wolf watchers" your way ……Thanks again for the great work!"
Dan Miller
Host, TNN Television:
Dan Miller wolf watching
"We really had a great time following the wolves and bears around the valley with you ……..your love and excitement for Yellowstone park, wolves, and grizzly bears really shows! "
Ginny Hawke, Adrienne Wilcox & Aaron Behren:
"We are still talking about the wonderful day we spent with you showing us around and sharing your knowledge of the vast resources and wildlife of the area. It was definitely one of the highlights of our journey West and something we hope, perhaps SOMEDAY, we can do again."
Patricia and Michael Wassinger:
I don't know anyone else who is as knowledgeable about wolves, bears and Yellowstone so it is a lot of fun spending time with you. It was also a lot of fun seeing the parachuters (smoke jumpers) jump from the plane."
The Goldstein Family:
"We really enjoyed the two trips into Yellowstone we took with you! You are a terrific guide…………. The lack of sleep was well worth the opportunity to see the wolf pack…………… I will be recommending your services to anyone I know headed out that way."
Jerry Underhill:
"Kevin, …….I would take a moment to express my gratitude to you for the wonderful and informative tour that you provided my group last Thursday. We have talked about the sights and sounds for days, and I am certain that the raves will continue for some time!
The journey back from Yellowstone was like leaving "The lost World", and though pensive about returning home, our thoughts were back in Yellowstone and Paradise Valley. The experience will remain with us for a long time to come, and we thank you very much for your skills and company in helping us get the most of our limited time in the area. We hope to return again someday, and perhaps we can meet again then."
Michael B. Jones
Director of Professional Services; Clear Orbit
Austin, TX:
"Just wanted to let you know that we had a GREAT time on our trip to Yellowstone with you. The kids, Debbie and myself were very comfortable with you and absolutely enjoyed the information you provided about Yellowstone and Montana in general.
We plan to come back again next year and learn to snowboard! Have a great New Year and don't work too hard! Thanks again for a great experience!"
Susan and Glen Mutch:
"We would recommend you as a guide any time—even if we didn't see any wolves on our day 🙂 Hope the wolf watching has been great! "
Educational Programs
Larry Northup Travel Director / Science Teacher
Evans Middle School
Ottumwa, Iowa:
Photo courtesy: Larry Northup
Quite the handful……..well, maybe two handful's!
Evans Middle School Group
"Since 1999 you have been patiently and expertly guiding and sharing the many wonders of Yellowstone with our students. Your many miles of hiking with us has provided our Iowa students with opportunities and sights they will remember the rest of their lives. They may not remember the name Kevin Sanders, but they will always remember the Bearman! My staff and I look forward to spending even more time with you and the 150 students we are bringing you this summer. We really appreciate the new portion of your website dedicated to our Great Western Expedition.
Nathan Varley
Yellowstone National Park
W.S. 2000 Yellowstone Endangered Species Project./ Author: Wolf Tracker, and park employee
Thanks for participating in the Yellowstone Endangered Species Project for Wildlands Studies, San Francisco State University. We really enjoyed our time, and learned so much! On behalf of the students and myself, thanks very much.
ACADEMIC COURSE CREDIT Biology 315, Field Studies in Biology, 3 semester units at San Francisco State Wildlands Studies Program.
Tammy "the favorite" Smith
Evans Middle School; Ottumwa, Iowa —August 2003 group chaperone:
"I really enjoy your web page, of course the bears more than anything. I really wanted to thank you for a very good time……I understand now why you live in Montana.
There were a lot of good comments about your talks and hikes every day from most of the kids and the adults. It was something I know I will never forget and will bring back good memories ……..!!!! "
"Big Daddy"
Jeff Schwenk—President
Bottomline Software, Inc.
www.btmlinesoft.com
Evans Middle School; Ottumwa, Iowa—August 2003 group chaperone:
"…………The vistas were breath taking, your narrations……….were awesome. Walt Disney couldn't have done it any better!
………….You have a lot to offer visitors to Yellowstone. Keep up the great work. It isn't often you find a person who loves what they do for a living. When you do, everyone benefits from the enthusiasm and infectious smile.
Thanks again for the two days of lifetime memories."
Jim and Joellyn Barton,
Evans Middle School; Ottumwa, Iowa–chaperone and dedicated wolf watcher:
"Watching wolves and grizzlies in Yellowstone with you and your knowledge and expertise was much more rewarding and exciting than the whale watch tour we just completed off Bar Harbor, Maine and Acadia National Park."
Slide Shows
Independent Insurance Agents of Montana, Inc.:
"You are wonderful! I can't tell you how much our participants enjoyed your presentation………The slide presentation combined with your knowledgeable, informative commentary was excellent. Everyone not only learned, but they also left with a greater appreciation of Yellowstone and its wildlife."
Montana Power Company:
"We really enjoyed your slide presentation on Yellowstone Park. Your knowledge and love of Yellowstone really shows! …….Made the entire program!"
Big Sky Cardiology Conference:
"The entire group raved about your program for days! This was the 5th year we hired you, and the program gets better every year! Your knowledge and enthusiasm really makes the program a great success!"
General Compliments
Kezha G. Hatier-Riess
Program Director
Yellowstone Park Foundation–Wolf Fund
"Thank you, as always, for your help and hard work. It (collecting money for the wolf fund) has made a huge difference. "
Peter Busch
Anheuser -Busch, Inc.
"I would like to commend you for your interest in sharing wildlife knowledge with future generations. I look forward to working with you in the future on various film projects, and appreciate your expert assistance. Your expert guide services were invaluable."
Wayne Gray
Digital Ranch
"Thanks so much for helping us with our History Channel documentary on people who work with dangerous animals. I enjoyed our conversations and the information you gave us has been extremely helpful. "
Kirsten Johnson
Counter Assault Bear Spray
"I was impressed with the information that you provide on bear attacks and camping with bears. This is good information that needs to be available to more people. Thanks for the good work you do in educating people about proper behavior in bear country."