Welcome to Yellowstone National Park!
Yellowstone & Grand Teton Park Entrance Fee's – One pass–Two parks!
Yellowstone National Park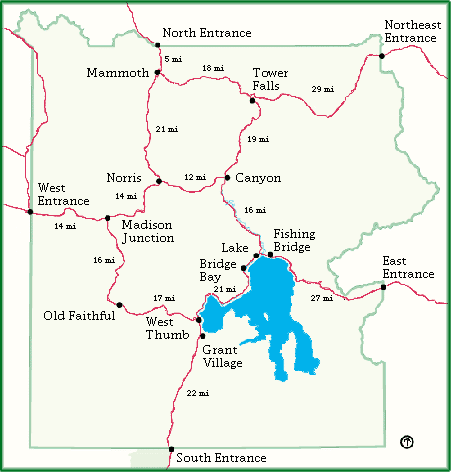 Spring Road Opening Schedule
Roads open for the spring and summer season to wheeled vehicles on or about the dates listed below.
The third Saturday in April: West Entrance, and Mammoth Entrance to Norris, Madison Junction, and Old Faithful. Norris Junction to Canyon may also open if conditions allow.
May 1 – 12?: Canyon to Yellowstone Lake, and the East Entrance. The date varies each year depending on weather and the policy of the park superintendent for a particular year.
Mid to late May: Tower Junction to Tower Falls. Lake to West Thumb, and Old Faithful and the South Entrance.
June, possibly July: Cooke City over the Beartooth Hwy to Red Lodge, Montana opens. Tower Falls to Canyon over Dunraven Pass will also re-open.
Spring weather conditions (heavy snow) could temporarily close some roads periodically, with little or no warning. Visitors are urged to contact park headquarters at (307) 344-7381 for current road and weather conditions.
For the latest information regarding opening and closing dates visit this page – http://www.nps.gov/yell/planyourvisit/
Fall Closing Schedule
The closing date each fall to vehicles is generally the second Friday in November. However, some park roads and entrances may be forced to close early due to snow. Some areas and roads may close with little warning.
Winter Operating Schedule
The winter season runs from approximately mid-December to mid-March, depending on snow and weather conditions. Roads are open to travel in winter by snowmobile and snowcoach travel only.
The North Entrance at Gardiner, Montana is the only entrance which remains open to wheeled vehicles year-round and is open for vehicle traffic only to Mammoth, Mammoth Terraces and East to Tower Junction and Cooke City, Montana. Snow tires or chains may be required.
Road Opening and Closing Explanation
This seems to be confusing to a lot of folks. The simple explanation is the park is open to cars, trucks, RV's, etc…..only from April through early November. The park roads are then closed to allow snow to build up for winter snowmobile and snowcoach travel which begins in late December. The park then closes again in early March so that crews can remove the snow for the spring opening schedule in mid-april. These dates are not set in stone and may vary depending on weather conditions—if it dumps 4 feet of snow overnight in late October, the park may start closing early.
For more road information: Yellowstone 307-344-2117. Beartooth Pass 888-285-4636
Yellowstone Park Road Maps
Official Yellowstone Park Road Map- Color 1.1 Mb
Hours of Operation for Yellowstone National Park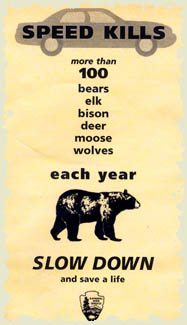 Yellowstone National Park is open 24 hours a day when open (see spring opening, fall closing dates above). The North Entrance at Gardiner, Montana is the only entrance open year-round to wheeled vehicles, and is open 24 hours a day, 7 days a week, 365 days a year, and almost never closes, except when there is a danger from falling rock or other road hazard.
Note: The North Entrance is open year-round to auto's but you can only drive East to Tower Junction and Cooke City, Montana from mid-November through mid-April. During winter months all other roads in Yellowstone are open to snowmobiles and snowcoaches only. Again, see open and closing dates above.
If you arrive at a Yellowstone entrance gate very early in the morning or very late at night you probably will not find any park rangers on duty, just drive on in. The rangers check entrance passes as visitors exit the park during working hours so if you entered the park without paying during off duty hours, you can pay as you leave.
Also, if you enter the park during off duty hours with no ranger on duty there are box's attached to the outside of each entrance gate house which contain park maps and other useful park information which you are encouraged to take and use.
Yellowstone Weather & Recommended Clothing
At any time of year, be prepared for sudden changes. Yellowstone park's weather is very unpredictable, each and every month of the year.
Always be equipped with a wide range of clothing options, and dress in layers. Be sure to bring a warm jacket, gloves, and rain gear even during the summer. I've had it snow several inches the first week of August, and have experienced 50 degree temp. changes in less than 30 minutes. The last thing you want to have happen is to get caught wearing shorts and a T-shirt during an unexpected snow storm.
Summer (July and August):
Lower elevation daytime temperatures in Yellowstone are often in the 70s and occasionally in the 80s, or even 90's. Nights are usually cool and temperatures may drop below freezing at higher elevations, especially around Yellowstone Lake and the Canyon area.
Thunderstorms are common throughout yellowstone park in the afternoons in August. It has snowed in the past, several inches in July and August at Canyon, however it generally does not last and melts very quickly.
I have to admit though it is kind of amusing to see a huge line of RV's and cars all heading out of the park early in the morning after a very cold and wet night in August, with folks wearing T-shirts and shorts.
Winter (November through March):
Winter temperatures in Yellowstone often range from minus-zero to 30F throughout the day. Sub-zero temperatures over-night are common. The record low temperature is minus-66F. Snowfall is highly variable. The average is 150 – 600 inches per year, depending on elevation, and year.
Spring (May -June) & Fall (September-October):
Daytime temperatures range from the 20s to the 60s with overnight lows in the teens to single digits. Snow is common in the spring and fall with regular accumulations of 12″ in a 24 hour period common.
Plan on wearing layers and adding or removing the layers often. Bring rain gear and plan on wearing it. A rain poncho will work fine, but actual rain gear with a rain jacket and rain pants work the best and help hold body heat. Colors? I prefer green myself and blend into my environment.
TIP: If you do buy rain pants and rain jacket, make sure you can get your rain pants on and off without having to remove your boots first. If you can't, it's easy to make an adjustment to the bottom of the rain pants by making a straight line cut about 8 inches or so up the outside seam and adding a snap, velcro, or button to the bottom.
October can be VERY unpredictable. It could be sunny, nice and warm, or it could seem like the dead of winter with 3 feet of heavy snow overnight and freezing cold. Brrrr 🙂
May is……….well May. Early spring weather with snow, rain and sun often in 30 minutes. Wear layers, rain gear, and expect lots of wet ground to walk through. Leather hiking boots would be your best choice for foot wear.
Creepy, Crawling, Flying—–Bugs!
Just accept it now; no matter what month you visit Yellowstone Park there will be bugs. I personally hate bug spray, but you might want to carry a small bottle of bug dope. Generally how I defend myself is to wear jeans, ball cap, and depending on the month a long sleeve shirt. Oh, and by the way (LOL) that "Skin So Soft" that everyone talks about……forget it. Only 100% deet works here.
May and June: Expect more mosquitoes
July and August: Expect more horse flies and deer flies, but if we had an especially hard winter with lots of snow and a late spring melt, you can expect mosquitoes in early July. You might also run into some damp, cool areas in July and August that have mosquitoes. If it makes you feel any better…….the deer flies are the worst.
September through April: No biting bugs to speak of, but you might run into an isolated spot here and there if the conditions and temperatures are just right.
Food / Supplies In Yellowstone Park
There are restaurants, cafeterias, and/or fast-food grills at, or nearby all of the park hotels. However, if you arrive in the spring or fall these services may not be open. Peak summer season in Yellowstone can be very crowded, so come prepared.
Since most of the eating facilities in Yellowstone are generally crowded and spaced far apart I always carry sandwiches and other food items in a cooler, that way we eat when we want to eat and not just because we are close to a facility. Plus we don't have to wait in line and as a bonus; we eat outside in the splendor of Yellowstone.
Supplies and groceries are available at Hamilton Store locations near all lodges throughout Yellowstone when open. Grocery stores are also located in every entrance town; West Yellowstone, Cody Wyoming, Gardiner Montana, etc…
Service Stations / Gas / Fuel / Repair
Yellowstone Park Service Stations offer gasoline at service stations in the following locations:
Old Faithful Lower Station – open from mid-April to early November
Old Faithful Upper Station – open from late May to late September
Canyon Village – open from late April to early November
Grant Village – open from mid-April to mid-October
Mammoth Hot Springs – open from early May to mid-October
Fishing Bridge – open from mid-May to late September
Tower Junction – open from early June to early September
Repair and Towing services are available at service stations at Old Faithful, Fishing Bridge, Canyon, and Grant Village.
Diesel Fuel is available at the following locations:
Mammoth Hot Springs
Old Faithful Upper and Lower Station
Grant Village
Fishing Bridge
Canyon Village
Medical Services
Yellowstone Park Medical Services provides facilities at these locations in the park:
Mammoth Clinic is open year-round. Hours are typically from 8:30 am to 5:00 pm. Call (307) 344-7965
Lake Hospital is open from mid-May to mid-September
Old Faithful Clinic is open from early May to mid-October
Emergency medical services are provided by rangers on duty. Call 911 in case of an emergency.
Basic Visit Recommendations
I recommend that everyone make at least one stop at a visitor center soon after they arrive in Yellowstone. There are visitor centers at every major area in the park and each will have its own unique "flavor" based on the location. Canyon Visitor Center is the newest (fall 2007) and I think the most interesting!
The visitor centers are excellent for gathering current information on road closures, weather forecasts, park regulations, and permits. You can also gain invaluable information on wildlife sightings, hiking trails to take, grab a map or two, and maybe a book too.
Each yellowstone visitor center will also have its own unique display. You might find a wildlife display at the Fishing Bridge Visitor Center, and a display on bison or the Yellowstone Volcano at the Canyon Visitor Center. These are great resources, so take advantage of them!
Keep in mind that due to high levels of visitation, travel through yellowstone park can be slow, especially during late June / early July and August. Make lodging and camping reservations as early as possible. Most hotels fill a year in advance.
Yellowstone Park is large (larger than nearly everyone expects…..hey! this place is huge!!) and its major scenic attractions are widely dispersed. You will get more from your visit by limiting your travels to one or two areas if you have only two or three days to spend in Yellowstone. Allow a minimum of 7 days if you wish to see most major park attractions.
Extra's
Be a responsible visitor and read over the Wildlife Viewing Etiquette page prior to your visit. Don't get caught up in the group, or "herd" mentality.
To get a decent look at Yellowstone, try to plan on a minimum four or five day visit, with at least one of those days dedicated to hiking. Less than 2% of visitors use the backcountry, which is where the real Yellowstone is found.
Check with a visitors center before hitting the trail, or at very least stop and read over the bulletin board found at every trailhead. Area closure's, recent dangers, etc…..will be posted here, along with comments left by previous hikers in the log book. Check the trail registry log book for any comments about bears, aggressive moose, or other dangers that hikers have experienced. I recommend having a backup trail to hike, just in case.
Most importantly, remember that you are in a very special place. Slow down, take your time and "smell the roses".
For Fun!
Stop somewhere during a hike and have everyone find a seat. Choose an amount of time, say….. 2 minutes and ask everyone to be as quiet as possible. Listen for the sounds of the forest. See how long it takes for the forest to return to life, with birds and small rodents reappearing first.
Just sitting for a few minutes like this will do more to recharge your batteries than just about anything else you could do. Soak it up, and the next time you find yourself wide awake and unable to sleep, just close your eyes and allow yourself to slip back to that spot.
If you have children, turn it into a game. Pass out small pieces of paper, and have everyone write down every sound they hear in one column and every living creature they spot in a second column. Compare notes after the time expires. How do the sights and sounds compare with where you live? Did anyone write down grass and trees as a living organism?
Best Times to Visit Yellowstone
This is probably one of the most frequently asked questions I receive, and tough to answer. There are two months during the year that I personally think are the best months to visit Yellowstone Park— May and October are my two favorite months.
In May, the park has just recently re-opened, the bison have new born calves (elk calve in June), eagles, sandhill cranes, trumpeter swans and other birds are beginning to show back up, wolves and bears are easier to locate, and there is little traffic during May. All making May one of the better months to visit. The downside to visiting in May is; most of the visitor services are still closed, gas, food, lodging, etc…, it can still snow and can be a bit wet and nasty at times.
Visit YellowstoneBB.com for a place to stay.
October. One of my favorite months for photographing the Grand Canyon of the Yellowstone. I found over 6 years of trial and error that there are two weeks each year when the light, and shading is perfect at Canyon…..the first two weeks of October. There is also little traffic, the elk mating season is generally just ending the first week of October, so you can still hear bull elk bugling, its cooler, the fall colors and extra steam from cool air and very hot, hot springs make for some great photo opportunities. The downside? Services are closing, it can snow and some park roads may close.
Which summer month is best?
If you can only visit during the summer, then I would suggest early June or the middle of July. The last week of June through the first week of July the past three years has been the most crowded period. August has historically been the busiest month, but the past three years the traffic has not been all that bad, however it can still be pretty crowded at the major attractions; Old Faithful, Canyon, etc…..
Which winter month is best?
Any winter month is good. The peak visitation month is probably February, but snowmobile traffic is still low. I prefer October through early May for wolf viewing.
Cell Phone Service in Yellowstone
Cell phone service in Yellowstone Park is spotty at best, and not all cell phone companies work in the park. From my guests experience, I would say you have a 50/50% having your cell phone work here. If your cell phone company does operate here you will have your best signal strength at any of the major centers in the park—Old Faithful, Mammoth, Canyon Village, etc….. You will also have a good cell phone signal when you are at high elevation like up on Dunraven Pass. The remainder of the park will be blacked out, or you might catch a weak signal within a very small spot on the ground or road but then lose it a foot away. The basic rule of thumb is, if your cell phone company has service here you can call or receive a call when you are within sight of a bank of pay phones.
Firearms, Bear Spray, and Air Horns
As of 2010 firearms are allowed within Yellowstone National Park, but must be in compliance with applicable federal and state law. Firearms are not allowed in any Federal Building—Visitor Centers, Post Office, etc……..The way I understand it is, Yellowstone Park is within the boundaries of Montana, Wyoming and Idaho. If you happen to be within the Montana section of Yellowstone you must comply with Montana state laws regarding the holding, possession and transport of firearms as well as the permits for each state. The same is true if you happen to be in Idaho or the Wyoming sections.
Bear Spray or Pepper Spray is allowed within Yellowstone Park. Here are my recommendations.
Boat Air Horns are not allowed in the backcountry, or on hiking trails inside Yellowstone Park but can be used while boating on Yellowstone Lake.
GPS Units and Geocaching:
This is still a fairly new activity in Yellowstone Park. Geocaching must be approved by the park service prior to placement. Geocaches placed without prior approval will be removed.
Contact:
Yellowstone Visitor Services
PO box 168
Yellowstone National Park, Wyoming 82190
The best GPS unit for use in Yellowstone Park is the Garmin GPS map 60CSx. The extended antenna provides better use in the deep canyons and thick timber you will encounter while hiking and driving in Yellowstone. I have found that the best map to use is the Mountain West-North Topo which covers all of Montana, Idaho and Wyoming. I installed mine with a pre-loaded micro data card. Garmin does offer a download for Yellowstone Park, but why limit yourself to just Yellowstone when you can get the same detail information for all three states and for the same money! This would be especially helpful if you plan on also visiting Glacier Park, Grand Teton Park or some other area while on your vacation.
Pets
Pets are allowed in Yellowstone National Park, but it is not the most comfortable visit for most pets, and I feel sorry for the pets that I see stuck in a hot vehicle while their owners are out walking the boardwalks.
Even while on a leash, pets are often disturbing to wildlife. For this reason, as well as others, pets are prohibited in the backcountry and on all trails and boardwalks.
Pets are permitted within 100 feet of roads, parking lots, and campground sites but must be kept crated, caged or restrained on a leash not to exceed six feet in length.
My personal feeling is, leave the pets at home with a sitter, or family member.
Feeding Wildlife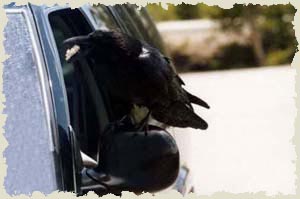 It is unlawful to feed ANY wildlife in Yellowstone Park. Feeding birds is just as bad as feeding a grizzly bear. If you choose to feed an animal while in Yellowstone National Park be forewarned, you could receive a citation.
Fishing / Boating in Yellowstone Park
Permits for boating and canoeing in Yellowstone Park are required. Rafting, and canoeing are not allowed on any stream or river in Yellowstone Park. Boating or canoeing are allowed only on Yellowstone Lake, Lewis Lake, Shoshone Lake and the Lewis river channel between Lewis Lake and Shoshone Lake. Beware though, it can be a bit dangerous to canoe in Yellowstone Park and some visitors and a few park rangers have died due to the cold water, and sudden unexpected storms.
Visit CommanderBob.com for boating safety tips and guides.
A yearly fishing permit can be obtained at some entrances into Yellowstone Park, at any visitor service center, and most fishing shops, gas stations or stores outside Yellowstone Park. (you do not have to have a state fishing license to purchase a park fishing license)
The permits are:
3 day permit $15.
7 day permit $20.
Annual fishing permit $35.
Most streams inside Yellowstone are fly fishing only, however there are certain areas on various streams or rivers that may open periodically to bait fishing. Catch and release is the norm. during most of the year, but again, there are certain periods of time when a particular stretch of river may open for fishermen to keep what they catch. Read the regulations and watch for signs posted along rivers and streams.
Due to low numbers, all cutthroat trout are catch and release only. Due to an overpopulation, a population that was illegally introduced, all lake trout are to be killed when caught.
Viewing and Photographing Wildlife
Be a responsible wildlife viewer and read over the Wildlife Viewing Etiquette page prior to your visit.
Park regulations require vehicles that stop for any reason, to stop and park completely off the side of the road PAST the outer white line. Stopping in the road, or parking on the road only causes traffic hazards and traffic jams. Please be courteous to other visitors, as well as helpful to the park rangers and park off of the road.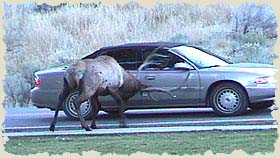 Keep in mind that all wildlife in Yellowstone Park are exactly that. Wild. Your safety cannot be guaranteed. Bison are one of the more unpredictable and dangerous animals in Yellowstone. Elk can also be dangerous during the fall mating season and some visitors have been injured, or killed after they got too close. While you are visiting Yellowstone Park, you have an excellent chance to see visitors walk right up to a 2000# bison, or large sex starved bull elk. Unless you have a death wish, Do Not Follow Them!
High-powered spotting scopes and binoculars are a must when viewing wild animals. ALL WILDLIFE, especially bison and bears, are unpredictable and dangerous. Keep a safe distance from all wildlife. It is against the law to approach within 100 yards (or meters) of bears or within 25 yards of any other wildlife. When photographing wildlife, a lens in the 600 mm to 800 mm range is a must.
Average rating:
1 reviews
Jun 3, 2018
So helpful! And funny!
My wife and I really appreciate all the info. Great for every season of the year. We also laughed a lot while reading.