I was the first guide in Yellowstone Park to offer and lead wolf viewing tours, now you have the opportunity to go with two people who were actually working on the project while it happened! Contact Nathan and Linda now to reserve your tour!
View Yellowstone Parks first wolves in nearly 70 years in their natural habitat. Featured in the CD- "Return of the Wolf" and the National Geographic film "Wolves, a legend returns to Yellowstone".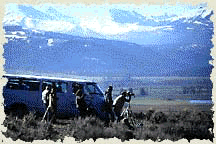 Winter is the best time to view wolves. Period!
Viewing areas are located in the Northern range of Yellowstone Park. Groups will travel to sites where wolves are active, set up spotting scopes, and camera's and learn through open discussion everything they ever wanted to know about wolves, bears and Yellowstone Park.
The sites will vary and change almost daily. Wolves are often viewed while hunting, at play, or interacting with other animals within their environment.
You will have great success in viewing one of 7 packs and on some days you are able to view 2 or even 5 packs or groups of wolves in Yellowstone. The wolf viewing area is located in the northern range of Yellowstone Park where most wildlife are located during fall, winter and spring months. Red fox, bald eagles, ravens, coyotes, mule deer, bison, elk, and big horn sheep are often viewed along with wolves.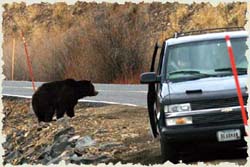 After about March 15, black and grizzly bears are also viewed as they appear out of hibernation.
If you are interested in wildlife, and lots of it, then this is the trip for you!
The prime periods to view wild wolves in Yellowstone Park are:
Any winter month! From September through early November we generally have views of at least one pack. As winter progresses and the temperatures drop and snow begins to fall the number of wolves, the number of packs increase and the distances tend to decrease. From November through early May we typically see multiple packs each day.
We also start to see grizzly bears emerge from hibernation after about March 15 each year, however the bears do not all exit winter dens all at once but can take over a month before they are all out and wandering around.
September – We generally have at least one pack to view. They are often at a distance and we often have to climb a steep hill to get any views at all. Sometimes we are lucky and the pack has a fresh kill within view of the road. We are able to do a short hike to one of the acclimation pen sites where the Rose Creek wolf pack was released during the reintroduction program 1995/96. We sometimes have bears to view as well as bison, elk, big horn sheep, pronghorn, etc….
October – Oct. is nearly the same as September.
November – Again, we generally have at least one pack to view each day, but the later we get into the month the colder it gets and the wolves become more viewable as they drop in elevation. Bears generally hibernate in early November. The pronghorn migrate out of the park and into lower elevations. Bison, Big Horn Sheep, Elk, Coyotes, and Eagles are often viewed
December through the end of March – Winter is really the time to view wolves in Yellowstone. As winter progresses and the snow accumulates, the herds of elk and bison all drop in elevation into low elevation winter range which is where we go to view. We typically have more than one pack to view each day, but it varies each and every day. How many packs, how many total wolves, how close or distant they are, how active they are varies each and every day. I always see my first grizzly bear out of hibernation within 3 days of March 15. Bison, Big Horn Sheep, Elk, Coyotes, and Eagles are often viewed
April – The wolf pack alpha females den up to give birth around the middle of April each year. This keeps the pack in a smaller area so they become more predictable. However, some den sites are not in view for us, so there are wolf packs that we can not see after mid-April. We typically have one or two packs to view each April. More bears show up out of hibernation. The last bears to show up are the females with new born cubs, usually in late April. The Pronghorn begin migrating back into the park. Grizzly and Black Bears, Bison, Big Horn Sheep, Elk, Coyotes, Badgers, various Birds, Owls and Eagles are often viewed. April is probably the most popular month for my repeat clients who come out each year. We often have wolves and bears together at the same time, through the same spotting scope.
May – An excellent month for viewing both wolves and bears. A very active wildlife month! Lots of new babies to view as well.
June, July, August, Sept., Oct., — contact Nathan and Linda. Every year is different and conditions change frequently.
viewing wolves in yellowstone park After observing and following wolves around Yellowstone Park since their release the spring of 1996 The groups can consistently view wolves 99% of the time, but as my friend Nathan Varley says, "hey this ain 't no pig in a poke"! It can still require patience, and work. I am the first licensed guide to begin leading wolf viewing and photo tours during the late winter of 1995-96 when the Crystal Creek, Rose Creek, and Soda Butte packs were released.
This tour is led only in the morning. You will meet about 1 hour before dawn.
Each tour varies in length depending on month and wolf activity level. Keep in mind, the more you go out the better your chances of seeing wolves hunt or some other spectacular activity.
Unfortunately the wolf viewing tour is not a backcountry type, hiking tour. It would be great if it were but the wolves are just too sensitive, and we have a tough time keeping up with them as it is. I can't imagine how we would be able to do so on foot. In snow no less, with backpacks, tripods, spotting scopes, etc…..We would be lucky to see a tail of a wolf if we were on foot 🙂
Average rating:
0 reviews